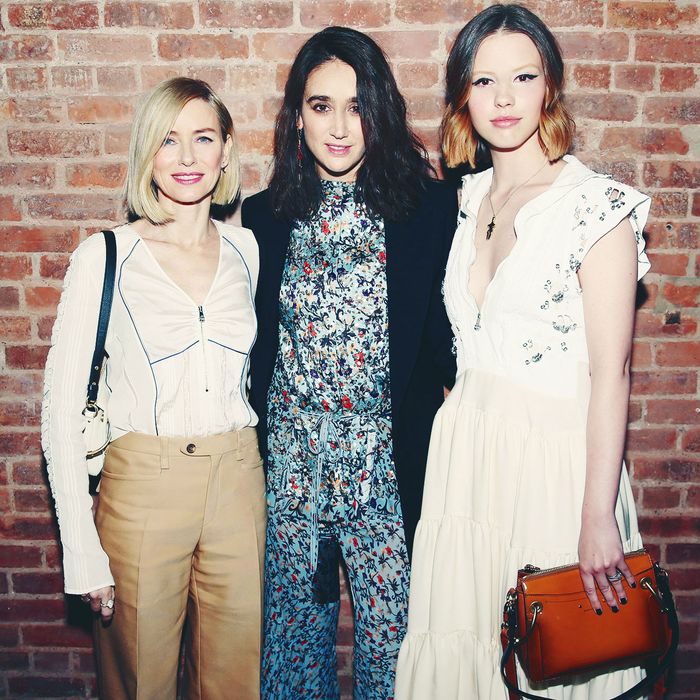 Naomi Watts, Natacha Ramsay-Levi, Mia Goth.
Photo: Courtesy of Chloe
Natacha Ramsay-Levi is overwhelmed, and not because she's on a whirlwind, three-day press tour in New York weeks before showing her second Chloé ready-to-wear collection in Paris. She's overwhelmed because everyone around her is just so damn beautiful.
"These girls are absolutely stunning," she said on Thursday evening, reaching for a cocktail in a dimly lit Soho loft above the old Pearl River Mart. "I feel so lucky."
It was here that Ramsay-Levi hosted an "intimate" 130-person dinner with the Webster for her hashtag Chloé girls, including Naomi Watts, Mia Goth, and Kelela, plus a gaggle of models and cool New York characters. Ramsay-Levi's longtime friend, the musician Cat Power, also serenaded guests over dessert.
"Overwhelmed in French is very nice," Ramsay-Levi clarified. "I need to find the translation in English." May I suggest "shooketh," perhaps?
Though Ramsay-Levi loves New York for its energy and art scene, what inspires her most is its women. "The girls from New York have a personal style," she said. This much was clear: no guest looked the same, despite the fact that they were all wearing pieces by the same designer.
"Chloé pieces have to fit in your wardrobe and fit you," Ramsay-Levi continued. "They're clothes that enhance your personality, but the most important thing is the girl herself."
See the Chloé girls in all their glory, below.