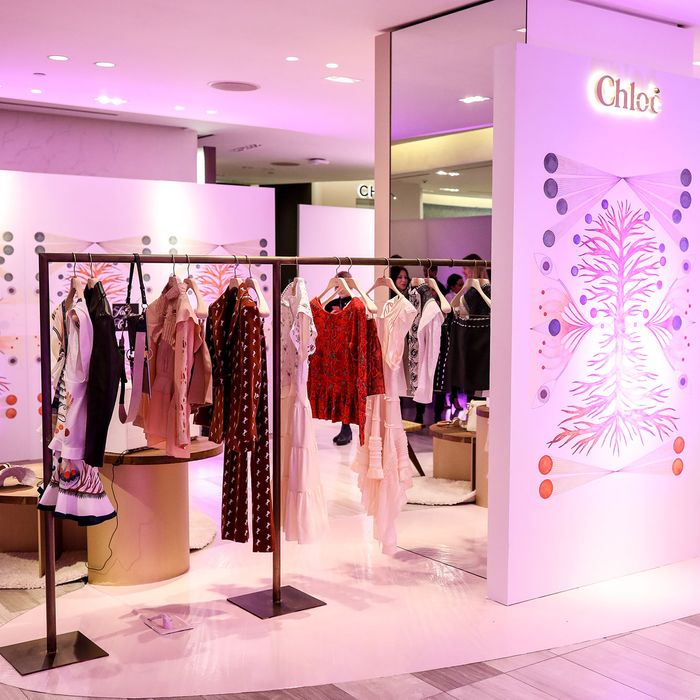 Chloé at Saks.
Photo: Neil Rasmus/BFA.com
If you just can't wait until our six more weeks of winter are up, you can at least treat yourself to some spring-y escapism at Saks, via the Chloé spring/summer 2018 collection. The collection paid homage to the French house's history, beginning with its inception in 1950s Paris. Charmingly modern details, like necklaces of nude busts and studded eyelet tops, rounded out the collection that showed in Paris in September.
The famously free-spirited brand partnered with the American heritage department store for the exclusive U.S. launch of their most recently shown collection at the start of New York Fashion Week. Which means that horse-embroidered velvet suits are finally available at Saks.
Designer Natacha Ramsay-Levi, who just started at the brand last year, made her first U.S. retail appearance last night at a cocktail party on Saks' designer floor. She greeted friends and fans, many of them channeling the quintessential Chloé girl in berets, leather, and knee-high boots. She spoke with the Cut about what Chloé fans can look forward to in Paris Fashion Week fall 2018.
"The first collection was a mosaic of different chapters, and now it's time to go to one idea after another," Ramsay-Levi told the Cut. "I want to be very trustworthy for the Chloé client but also to put Chloé in a very relevant moment. I hope it'll be at that point. The first one was very broad in the different vocabularies, and now I want to emphasize one."
Keep an eye on Paris Fashion Week fall 2018 to see if Ramsay-Levi takes the "relevant moment" in a political direction. That seems to be one note designers are increasingly fond of hitting.