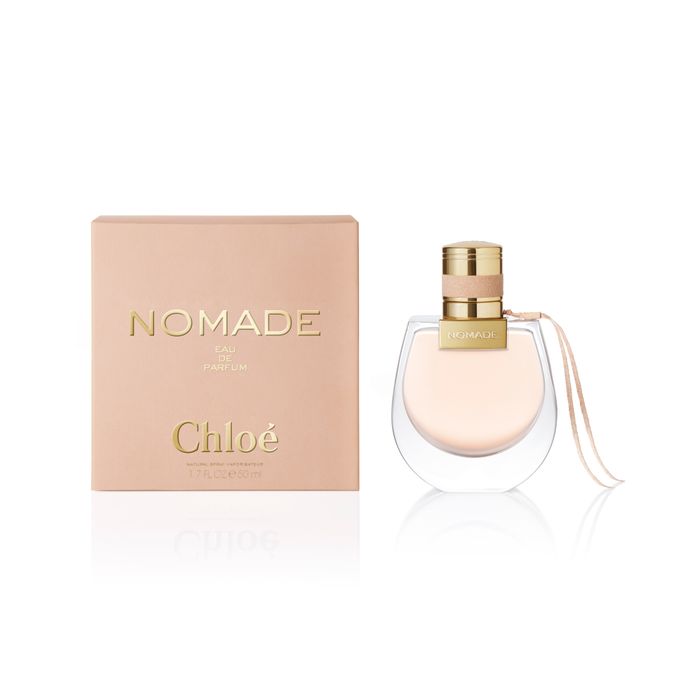 Miranda Priestly may balk at the sight of freesias (she might be close, but nobody's perfect), but the fresh, floral scent gently lingers in Chloé's new perfume, Nomade. The luxury label's latest addition to its fragrance collection is a departure from its traditionally rosy, powdery, romantic scents. Instead, Nomade takes a more adventurous approach that calls to mind lush forests and a wandering spirit.
The scent is a floral cyphre, which means it starts out citrus-y before drying down into a more earthy scent, after the fragrance settles into the skin (about 30 minutes). The intense, fresh oakmoss mingles with plum notes to create a complex, pastoral scent.
The perfume comes in a minimalist translucent bottle looks like the label's half-moon-shaped Drew shoulder bag that was virtually everywhere in 2015. Topped with a gold cap and a blush suede ribbon, the new perfume is poised to become a favorite in anyone's perfume wardrobe.
Ariane Labed, the Athens-born French actress (The Lobster, Assassin's Creed) fronts the campaign, and has said the perfume is perfect for a free-spirited, adventurous woman. The label's Parisian founder, Gaby Aghion, has said "my colors come from Egypt," where she was born in Alexandra. Nomade evokes the traveling spirit of a woman who is always in search of liberation.
Nomade will be available at Sephora February 8 and everywhere in March.
If you buy something through our links, New York may earn an affiliate commission.