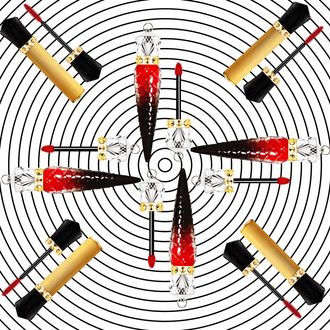 The Christian Louboutin empire is launching more red-to-match makeup. A new red mascara and lip oil will become mainstays in the existing Rouge Louboutin collection, which already includes a stiletto-inspired nail polish bottle and 13 matte lipstick shades.
The Les Yeux Noirs Lash Amplifying Lacquer mascara will now give you red lashes to match your shoe soles. The brand suggests applying it only to the tips of lashes for a more subtle look that's more "glowing" and "fiery," rather than bringing to mind The Man with Red Eyes from A Wrinkle in Time. The Loubibelle Lip Beauty Oil is a smooth, sheer red tint. The jojoba oil base also allegedly softens and hydrates lips or cheeks for a naturally flushed look.
The mascara comes in a gold Art Deco tube with a red applicator, and is topped with a black crown lid. The lip oil, which comes with a brush applicator, comes in an ombré bottle carved to look like a mermaid tail that can be worn as a pendant. The prices are a little steep ($70 for the mascara), as is everything with Louboutin, but since the products carry their weight in quality and style, they're worth the investment — just ask Cardi B.
The Rouge Louboutin additions will be available February 7.