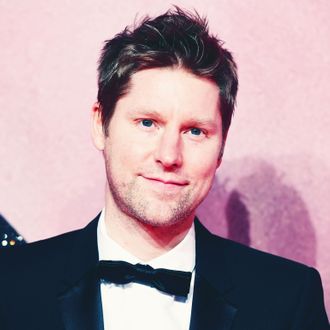 Christopher Bailey.
Photo: Stuart C. Wilson/Getty Images
Burberry's iconic plaid is getting an upgrade for Christopher Bailey's final show with the brand. The tan, black, and red tartan featured in the collection will also have a rainbow stripe. Bailey announced today that he is dedicating his final runway to, and temporarily changing the plaid for LGBTQ+ youth.
"My final collection here at Burberry is dedicated to — and in support of — some of the best and brightest organisations supporting LGBTQ+ youth around the world," Bailey said in a statement. "There has never been a more important time to say that in our diversity lies our strength, and our creativity."
In addition to the sartorial support, Burberry will make donations to three organizations that support LGBTQ+ communities: the Albert Kennedy Trust, the Trevor Project, and ILGA. The initiatives will extend past Bailey's departure date in March. His last show will debut on February 17 and will be a see-now-buy-now format, meaning the rainbow plaid scarves, hats, and hopefully a trench coat or two will be available for purchase immediately after they're seen on the runway.