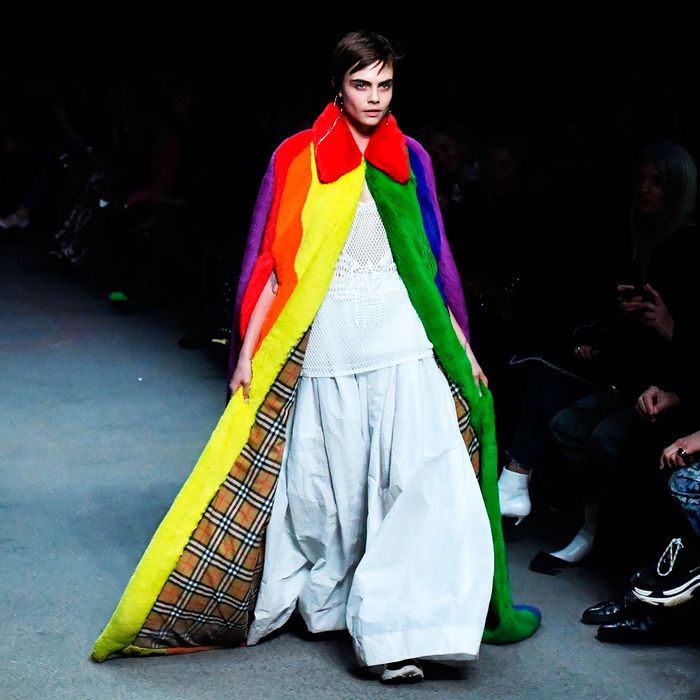 Cara Delevingne.
Photo: BEN STANSALL/AFP/Getty Images
It's not often that Chelsea Clinton, Alexa Chung, and Zendaya happen to be in the same place, but none of them would've dared miss Christopher Bailey's last Burberry show at London Fashion Week. They were far from the only celebrities — in fact, the crowd was notably star-studded.
Aside from the aforementioned women, attendees included Sienna Miller, Alexa Chung, Keira Knightley, Kate Moss, Liam Gallagher (and his son), Tom Holland, Law Roach, Paris Jackson, Lily James, Matt Smith, and Jourdan Dunn, many of whom wore old Burberry designs. No one's outfit rivaled Miller's, though, who sported full-on Burberry plaid.
Earlier this week, Bailey announced that his final show would be dedicated to LGBTQ+ youth, and the tan, black, and red tartan featured in the collection had a rainbow stripe. In addition to the sartorial support, Burberry announced its plan to make donations to three organizations that support LGBTQ+ communities: the Albert Kennedy Trust, the Trevor Project, and ILGA.
"My final collection here at Burberry is dedicated to — and in support of — some of the best and brightest organisations supporting LGBTQ+ youth around the world," Bailey said in a statement. "There has never been a more important time to say that in our diversity lies our strength, and our creativity."
The catwalk — which featured rainbow sneakers, hats, and purses — was closed by Cara Delevingne, who walked out wearing a floor-length, faux-fur Pride cape as "Don't Leave Me This Way" by Thelma Houston played in the background.
Below, some of Bailey's loyal fans who made their way to his last show.