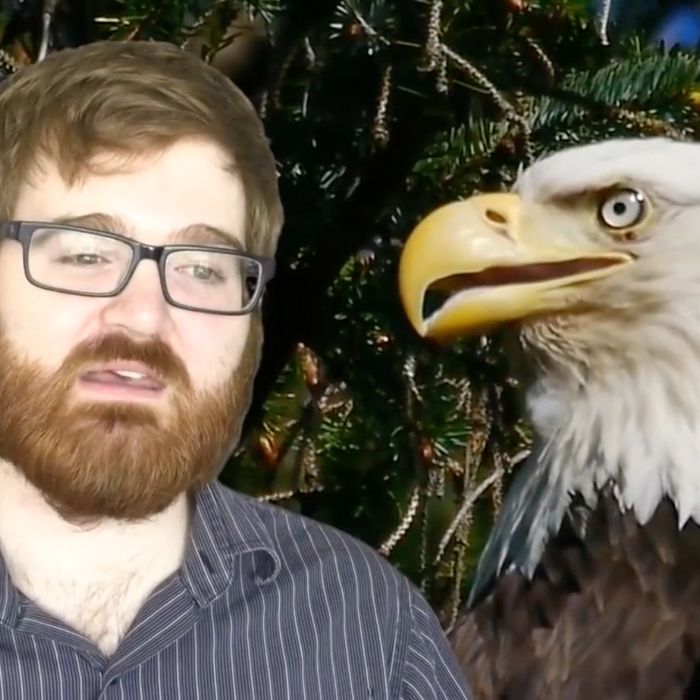 Chuck Johnson.
Photo: Courtesy of Youtube/Trollproof
Survivor is a show where people lie, deceive, and poop outside in the hopes of winning money. Twitter is a website where people lie, deceive, and figuratively poop all over for no apparent reason. So it makes sense that after he was banned from Twitter, Chuck Johnson — an alt-right troll and rumored floor-pooper who was once dubbed "the web's worst journalist" — would try to get cast on Survivor.
On Tuesday, the HuffPost obtained Johnson's Survivor audition tape, in which he tries to parlay his internet infamy into reality-TV infamy, bragging, "Using my patented trolling techniques, I was the first man kicked off of Twitter. I guarantee you I'll make it to the last man on Survivor."
Johnson gained notoriety for, among other things, misidentifying the woman he believed was the subject of Rolling Stone's UVA campus rape story, suggesting an engineer's sexuality caused a 2015 Amtrak crash, and calling into question how many Jewish people were killed in the Holocaust.
Despite his qualifications, Johnson was not cast. But you can still watch his audition tape below: