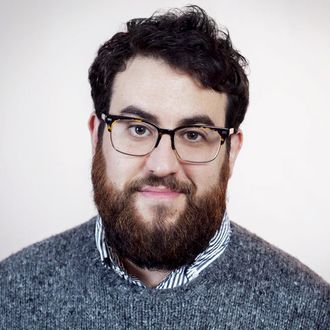 Aaron Glaser.
Photo: Courtesy of Facebook/Aaron Glaser
In August 2016, the Upright Citizens Brigade theater investigated and then banned comic Aaron Glaser after he was accused of rape by multiple women. The news spread quickly throughout the comedy community and, long before the most recent wave of the #MeToo movement, became a springboard for discussion on how the industry handles sexual-assault allegations. Now, the New York Post reports, Glaser, 30, is suing UCB for gender discrimination.
His lawsuit reportedly calls out "hollow and wrongful allegations of sexual misconduct'' and a "gender bias at UCB." It also says that UCB director Shannon O'Neill "labeled Mr. Glaser a 'privileged white man' and decided that he must be guilty because he looks like other people who have been guilty of crimes in the past."
As Jezebel reported last November, Glaser filed a lawsuit against comedian Jasmine Pierce for $38 million in December 2016, claiming that she defamed him by calling him a rapist online. (He dropped the suit in September 2017.) At the time, he told the outlet that he was planning to sue UCB next.