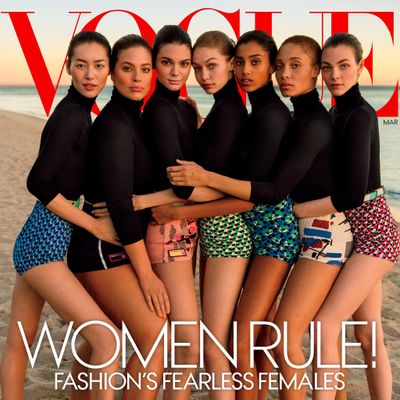 In the wake of high-profile fashion-industry insiders being accused of sexual misconduct, Condé Nast International has released a code of conduct for "all who work with its brands." Mostly, it provides extensive protections for models and guidelines for photo shoots.
The charter comes after the many sexual-misconduct allegations raised against frequent Condé collaborators Mario Testino and Bruce Weber. Anna Wintour mentioned the code of conduct and its basic principles in a statement following the New York Times report on the two photographers. According to British Vogue, Condé Nast has been working on the requirements since October when the Harvey Weinstein story broke. They consulted over 150 industry professionals when creating the guidelines.
Like the LVMH and Kering contract that came before it, the Condé Nast code of conduct says that all models must be over 18. If "children are essential [to] a story" they must be accompanied by a agency-approved chaperone. Any shoot that involves nudity, simulated drug or alcohol use, or sexually suggestive poses must be approved by the model in advance. No shoot participant may be under the influence of alcohol or illegal drugs. All models must also be provided a private dressing space.
Some of the provisions (such as banning the use of underage models without a chaperone and saying that nobody can use illegal drugs on set) are already covered by other laws, the Fashion Law points out.
But notably, Condé included two guidelines for the relationship between a photographer and a model outside of a professional setting. Several of the allegations against Testino and Weber included being asked to go to a second location alone with a photographer. Per British Vogue:
· We recommend that a model should not be alone with a photographer, makeup artist or other contributor participating in a Condé Nast shoot.




· Throughout the shoot, including any related travel, photographers and videographers may not shoot anyone engaged by or through Condé Nast other than as requested by Condé Nast.
Condé Nast is not the only publishing company to make new guidelines for independent contractors. Hearst Magazines also added a clause that contributors must disclose any harassment claims against them. Hopefully systemic change is on the horizon.