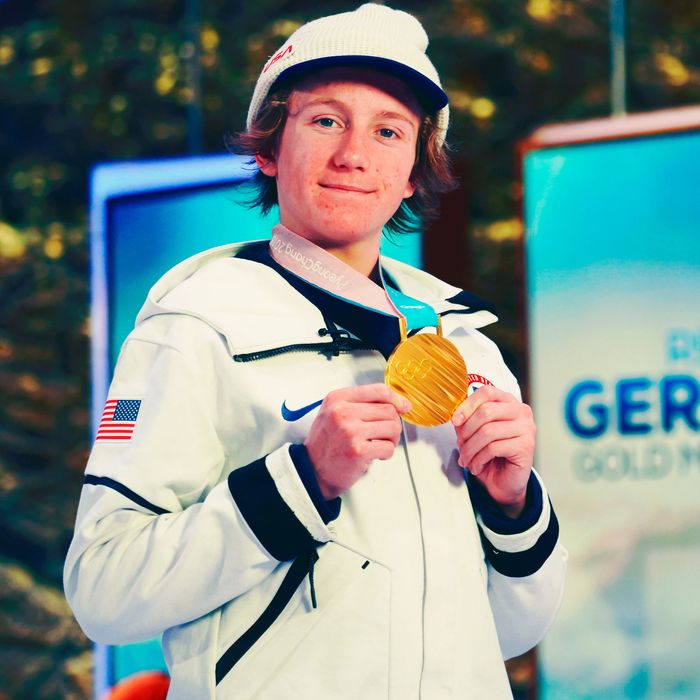 Red Gerard.
Photo: NBC/NBCU Photo Bank via Getty Images
On Sunday morning, 17-year-old snowboarder Red Gerard became first American to win gold at the 2018 Winter Olympics, and the youngest American man to win gold at the Winter Games in 90 years. A few hours earlier, though, he was just a regular teen, sleeping through his alarm after he passed out watching TV the night before. According to Yahoo! News:
He had zonked out the previous night during an episode of "Brooklyn Nine-Nine." Gerard was supposed to get up at 6 a.m. At 6:20, [Kyle] Mack [Red's roommate] said, "Red, you out of bed yet?" He wasn't.




Eventually, he rolled out, grabbed an egg sandwich with ham, avocado and cheese, panicked that he couldn't find his puffy jacket, borrowed Mack's and headed to the hill, where his future awaited him.
An extremely cool, chill way to go about winning a medal. And Red wasn't even the chillest Gerard at the Olympics that day. After his win, he told reporters that at 8:30 a.m., while he was on his way to the mountain, he got a Snapchat from his friends and family who were shotgunning beers in anticipation of his run.
Congrats to Red, and all the other Cool Teens who seem thoroughly unfazed by the Olympics.