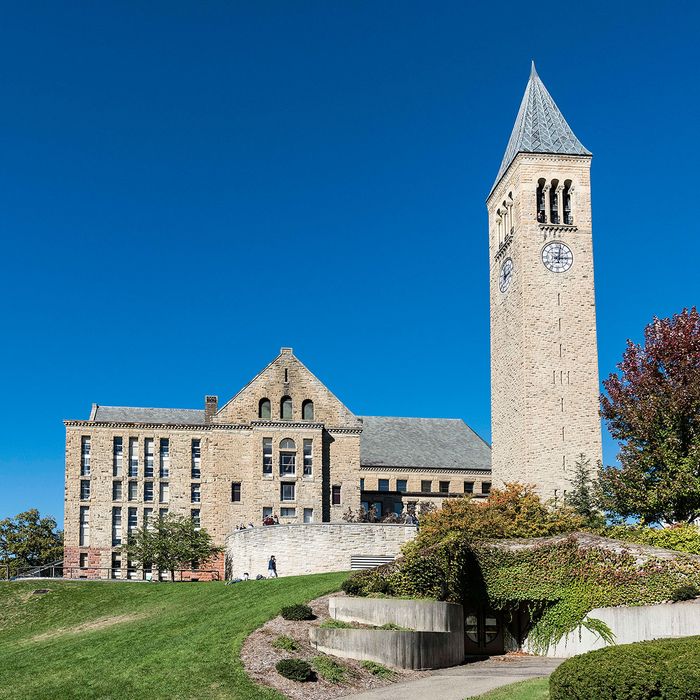 Cornell University.
Photo: John Greim/LightRocket via Getty Images
Entirely predictable news from Ithaca today: A fraternity at Cornell University has been disciplined for holding a degrading, predatory sex contest that demeans and fat-shames women. Zeta Beta Tau has been placed on probationary recognition for two years, after a university investigation found that the fraternity was holding a "pig roast" competition, in which new members earned points by having sex with women. In the case of a tie, the pledge who slept with the heaviest woman won.
Cornell's Fraternity and Sorority Review Board began looking into the fraternity's practices after receiving multiple complaints last year. In a statement released on Facebook last week, the fraternity said it was "shocked and appalled" by the allegations, adding:
"The allegations described are contrary to the values that Zeta Beta Tau Fraternity espouses and works in direct conflict with the beliefs and mission of the Kappa Chapter. Our chapter has worked closely with the Zeta Beta Tau International Headquarters to draft and execute an action plan that addresses this alleged behavior."
As a result of the university's findings, Zeta Beta Tau will conduct a full brotherhood review, participate in Cornell's Sexual Assault Awareness Week, and hire a live-in adviser, presumably paid to dispense valuable advice like, "Hey, maybe don't treat women like glorified sex toys. Just an idea."
Read the full report from the Cornell Sun here.