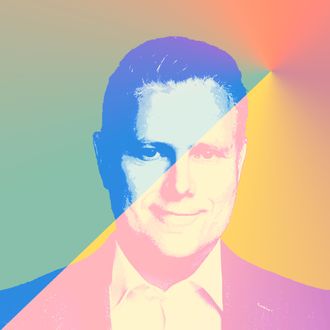 David Olsen, CEO of Cos Bar.
While most of us have failed on our New Year's resolutions by early spring, David Olsen has managed to maintain two for more than 15 years.
"Since 2001, I have never let three days go by without running," says the CEO of luxury beauty boutique Cos Bar. "Three times a week, I leave the car at home and get driven to the office so I can run the 3.5 miles home after work. It forces me to plan my week."
And then there's his diet plan: He hasn't sprinkled salt on a meal since 2003. This year, he added a new rule: No eating after at 8 p.m.
"I used to have a second dinner late at night because I couldn't sleep," he explains. "In the first month after I stopped, I was starving at night, but I lost eight pounds! It's been a bit more slow going, but I'm used to it now."
As rigid as these mandates seem, Olsen is anything but. In an industry that can be intimidating and, at times, imperious, the California native is known for his affable warmth and ready giggle. He often appears to be having the best time in the room. That said, he is equally known for his business acumen. During his four years at Net-a-Porter, he grew the beauty division from 11 products to 180. And in the two years since he's joined Cos Bar, he's overseen the growth of its locations from 14 to 20, and hopes to expand that number to 50 by 2021.
"I took the leap away from pure digital into omnichannel because there's definitely a need for both," says Olsen, who has also relaunched the company's website. "Everyone agrees that online sales are flattening out. There's a reason why Warby Parker, Eloquii and Bonobos have stores. You can't re-create the human touch. Not yet, anyway."
Olsen got his start in beauty by being a good son. After graduating with a joint J.D. and M.B.A. degree from the University of Miami, he lawyered by day while spending his off hours building a website for his dermatologist mother to help her sell the skin-care products her practice carried. The site was bought by DermStore, then, ultimately, acquired by Target.
Not bad for a guy who, a few years earlier was running sound checks for the U.K. band Naked. "Set up, 'Check, check,' take down, pack truck, drive to next city, repeat," he recalls. "Oh, and study for the LSAT."
Despite his impressive track record, It's hard to imagine success going to Olsen's head. Weekends are, and will continue to be, filled with coaching his kids' various sports teams, while squeezing in regular trips to Costco.
"I love Costco," he enthuses. "I mean, love."
The fact that a CEO of a luxury beauty destination (founded by Lily Garfield in the swanky town of Aspen) also shops at Costco perfectly illustrates the high-low shopping patterns many of us practice today. It's that kind of practicality that led Olsen to this industry in the first place.
"I got into the beauty business because I was looking for something light to ship with high margin, and beauty fit that bill," he explains. "But over time, I have fallen for this industry and all the characters in it."
Olsen spoke with the Cut about his predilection for Reese's Peanut Butter Cups, the importance of customer service and what makes him laugh out loud.
What do you cleanse with?
Cle de Peau's Synactif Soap bar.
What scent do you wear?
I rarely wear scent, but when I do, it's Tom Ford's Tobacco Vanille Eau de Parfum.
What do you carry your stuff around in?
When I travel, a Vissla Backpack. For meetings, a personalized J.W. Hulme soft briefcase.
What phrase or word are you known for saying?
ABTO: Always Be Thinking Omni.
What drives you crazy?
Negativity, and waiting in lines.
I'm generally very patient (I can hear everyone I know laughing right now), but it runs thin extra quickly on both.
What is a lost art?
Old-school customer service.
What is always in your fridge?
Bread and eggs, although I don't eat either. You didn't ask about my freezer, but you'll always find Reese's Peanut Butter cups there.
Shoe of choice:
New Balance for running, Vans for hanging, and Church's for suiting up.
Jeans of choice:
Joe's jeans, dark wash, relaxed fit. I have huge legs so I can't do skinny. I've tried and my calves get mocked every time.
Weakness:
Extremes. I'm generally all or nothing with everything.
Preoccupation:
Emails.
What technology or app do you rely on most?
I'm always on the road so American Airlines and Hotel Tonight.
Favorite Instagram?
Elliot Tebele (look him up) and, of course, @cosbar.
What or who makes you laugh?
My wife, dry wit, and The Jerk.
What do you wish you had invented?
The internet.
Favorite spot in the world:
On a boat in Croatia.
Favorite meal and where?
The Vlade Divac from Dan Tana's.
What product in your domain is misunderstood and should be a best seller?
Nanette De Gaspe Masks.
What do you foresee as the top beauty trends in 2018?
The only trend I'm sure of is that trends will continue to come and go at a much quicker pace than ever, and will also be more micro.
If you won the Power Ball, name the next five things you would do — after, of course, giving the majority of it to your favorite charities.
Take a breath. Confirm that I won. Buy my parents and wife something they want. Add bathrooms to my house (I've got 5 women in that house and 2 bathrooms). Get back to work; nothing else changes.