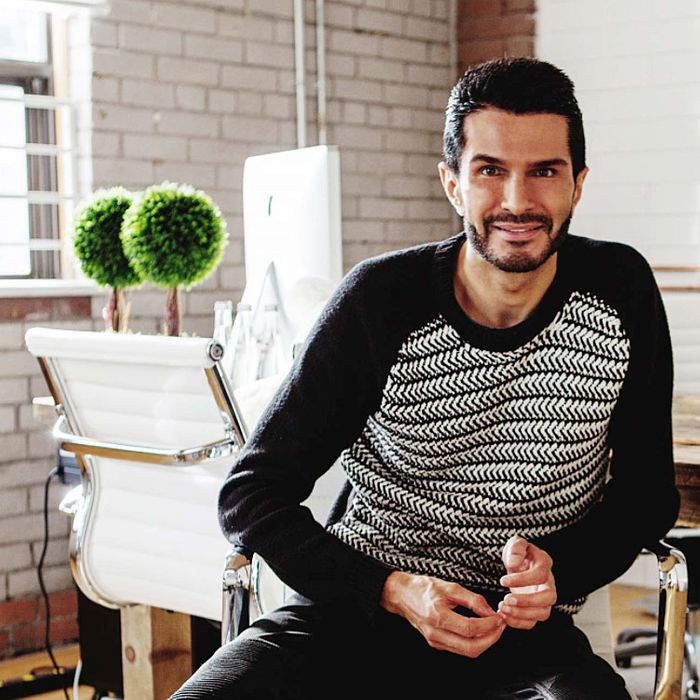 Brandon Truaxe.
Photo: Courtesy of Deciem
The internet wants to talk about Brandon. Brandon Truaxe, the CEO of Deciem — the self-proclaimed Abnormal Beauty Company, and parent company to the Ordinary, the Everlane of skin care — recently took over his company's Instagram account, and people are worried about him and how his behavior affects the future of affordable skin care.
Since Truaxe started posting directly from the @Deciem account, he's revealed a new product, publicly flagellated himself for the poor sales of a sub-brand, issued directives to employees, and relinquished his CEO title. Reddit has been flooded with conspiracy-theory threads and panicked memes about Truaxe's behavior, questioning whether he's doing okay, whether the communication and apologies are performative or honest, and the company's viability to continue producing affordable serums. I've been getting panicked Instagram DMs from people stocking up on their favorite $10 hyaluronic acid like skin care doomsday-preppers. (The brand is always sold out of some products, but there are some available for purchase on their site).
The Cut reached out to Truaxe via Dakota Kate Isaacs, Deciem's PR spokesperson, who sent over this statement: "I'm in a happy place and am ignoring anyone who is unhappy about it. Loving people will see me and Deciem for who we are. Unhappy ones will eventually rely on logic to make purchasing decisions regardless of their irrational criticisms. And logic is on our side because we make good products that are affordable."
Here's what's been happening on Instagram and the brand's response to all of the drama:
On January 24, Truaxe posted a video declaring that, effective immediately, Deciem would be cancelling all marketing strategies and plans, because "marketing is simply a way to convince people to buy things that they don't want or don't need." Truaxe spoke directly to the camera, in a stilted and almost bashful manner, wearing a lime-green sweater and facing a window that threw patches of sunlight across his face. He said he planned to communicate directly with customers using the brand's social channels. The video was relatively well-received in the comments section, where he began replying to hundreds of users.
On January 28, Truaxe wrote in an Instagram post about his love for monkeys, in a wandering statement about beauty standards in hiring and the common roots of all humanity. He also wrote about his appreciation for elephants as a segue into a public apology to Tiffany Masterson, the CEO of Drunk Elephant. The two buzzed-about beauty brands locked horns earlier this year over marula oil. The Ordinary and Drunk Elephant both sell it, at a noticeable price difference. On Reddit, a user noticed that the Ordinary website copy subtly indicated that "one would have to be drunk to overpay for marula," a clear jab at Drunk Elephant's $62 price tag (the Ordinary's version sells for $9.90). Truaxe called the post "distasteful," and pledged $25,000 to Save the Elephants.
On January 29, Truaxe told followers the brand's Instagram survived a hacking attempt. "This could be a past employee, someone who doesn't like us, a competitor, we don't really know but we're going to find out," he theorized. In the meantime, only he and one other employee would have the Instagram password. Users on Reddit's Skincare Addiction board speculated that perhaps a spiteful employee, having been laid off from their social-media role, could be responsible for the hack. Isaacs asserts that no one has been laid off from the company.
On February 2, Truaxe announced that he would drop his CEO title. "I will now be called Worker," he explains (his title change is also now reflected on Deciem's website). "Responsible teams don't need CEOs, and I've never liked any of my bosses in my life so I don't want to be a boss, I want to be a friend. I want people to be my friend and not my employee."
Another Reddit user looking for clues dug up lots of negative Glassdoor reviews. In an email, Truaxe responded, "When an employee's relationship ends with us, both sides feel angry like a breakup. Glassdoor is like a platform to ask ex-spouses about your future spouse potential. Visit our stores, offices or factories and talk to our team and you'll feel love and hard work. Glassdoor, please stop emailing me every month randomly to ask for money for us to better manage our profile. It's marketing spam and your platform is simply an outlet for anger to cloud judgement of very good people."
On February 3, Truaxe posted five videos and one mom photo (thumb partially obscuring the lens) of literal garbage. For each, the caption is the same, announcing the brand will be eliminating plastic from its shopping bags, droppers, and foundation bottles.
Using Instagram like internal emails, Truaxe has been issuing directions to some of the brand's employees. Alessandro and Hajar are directed by first name to notify suppliers of the plan. "Peter of Mong Packaging," is told that the brand won't be using his company anymore (but Truaxe does offer to sponsor him and give him a job at Deciem). On the other hand, Alan of Ideal-Pak, a manufacturer of liquid filling machinery, is told he's going to get more business.
That same day, Truaxe posted a picture of a man in athleisure and sunglasses on the Deciem Instagram. The 124-word caption introduces Riad, one of the brand's factory managers, whose two brothers also work for Deciem. Truaxe clarified that Riad is not his boyfriend, nor is he himself gay, and announced their plans to travel the world together until March. At the end of the caption, he hinted at a new, scent-oriented brand Deciem plans to develop this fall.
On February 5, Truaxe posted a slightly blurry picture of Moroccan black soap with a 200-word caption about how amazing the soap is, calling the man who gave it to him for free "beautiful." He left a memo for another Deciem employee named Prudvi, announcing intentions to add the soap to Deciem and add jobs to the Moroccan workforce.
Later the same day, Truaxe realized his social-media takeover was attracting attention, some good and some bad, and promised to build a "social content management team."
On February 6, despite his apparent promise to back off from social media, Truaxe wrote a public apology to Dr. Tijon Esho, with whom he created the lip-care sub-brand of Deciem known as ESHO. Truaxe publicly flagellated himself for "almost everyone" hating the brand, and explained, "I need to say goodbye to you because we were too busy to love your brand." He asked Dr. Esho and his customers to forgive him. This is "too transparent," one Reddit user theorized, with others calling it unprofessional, unsettling and "messy" behavior from the CEO of a public brand. Worried about Deciem's future ability to keep them stocked in affordable skin care, others speculate that Estée Lauder, a minority shareholder in Deciem, would soon be calling for an intervention. Deciem confirmed to the Cut that this is false.
Later, in an illustrated, more typical post with a picture of monkeys, Deciem announced plans for a physical and organic sunscreen launch for late April. It's unclear if Truaxe or someone from a newly appointed social team posted the photo. Either way, Instagram commenters were excited about Deciem's newest launch and happy again, flooding the post with queries about the new products.
The brand said it's aware of the recent chatter, and reassured the Cut that there's no cause for concern. In an email, Isaacs said, "[People shouldn't be any more concerned about their ability to buy Deciem] than they were last week. It's no secret that we've grown fast and the demand for our brands has been overwhelming. Our team has been working very hard and continues to work tirelessly on producing products." They will be opening a new, 75,000-square-foot office and factory in Toronto, which they hope will ensure that they catch up with demand by summer.
As to whether he plans to use Instagram any differently in the future, Isaacs says, "We hope our future isn't predictable, that's why we're abnormal."