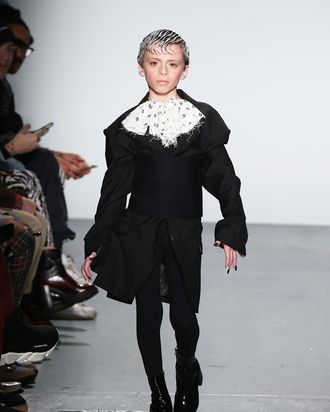 Desmond Napoles walks Gypsy Sport fall 2018.
Photo: Jemal Countess/Getty Images
Desmond Napoles, also known as Desmond Is Amazing, lit up an otherwise dreary Sunday afternoon yesterday when he made his runway debut at the fall 2018 Gypsy Sport show. The 10-year-old self-proclaimed "drag kid," an LGBTQ advocate and the founder of the first drag house for kids, the Haus of Amazing, wore heeled patent boots, an oversize blazer with a ruffled Renaissance collar, and long polka-dot nails.
Watch out, Kaia Gerber.
Backstage after the show, Desmond was out of breath. "It was really fab but very scary at the same time," he said of the experience. He loved the look designer Rio Uribe made for him because it was "androgynous."
To practice his runway walk, Desmond said he watched videos of Anna Sui shows from the '90s with supermodels like Linda Evangelista. Clearly, it paid off: he didn't miss a step, swaying his hips to the beat of a remixed version of "Human Nature" by Michael Jackson. He was in good company. Other runway models included artist Amara Desta Korley, Shannon and Shannade Clermont (known on Instagram as the Clermont Twins), as well as the musical artist Shamir.
Desmond started gaining a following in 2015 when he attended Pride in New York City. Last year, he and RuPaul introduced DragCon's first convention on the East Coast together. He's also been deemed the youngest member of the Iconic House of UltraOmni. On Sunday, when asked what was next for him, Desmond said he wants to go to Paris Fashion Week, and one day be on the cover of Vogue magazine.
Although Desmond is perhaps the most fabulous youngster to walk a Fashion Week runway, he was not the first. In fact, at Gypsy Sport's fall 2016 show, model Diandra Forrest walked in the finale with her newborn baby.
Fashion models just keep getting younger and younger, it seems. On Monday, a father carrying his newborn closed the Willy Chavarria fall 2018 show at New York Fashion Week. And on Thursday, a five-month-old baby named Zola walked the runway with her model father, George Okeny at Collina Strada.
Babies: they're life's greatest accessory.