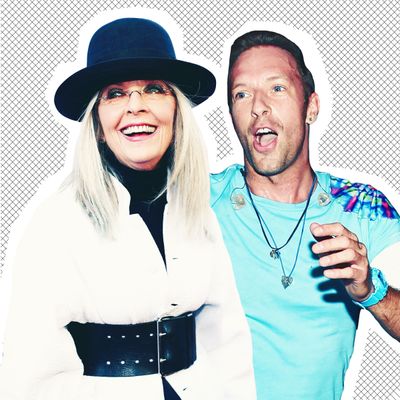 Diane Keaton and Chris Martin.
Photo: Getty Images
Diane Keaton has a few notable trademarks: wacky hats, zany glasses, turtlenecks aplenty, and a deep well of insatiable horniness. She's expressed her, uh, affection for anyone from Channing Tatum to Zac Efron and now she has focused her horny, laser-sharp gaze on Coldplay frontman Chris Martin.
Keaton spoke about her lust for Martin on the Ellen DeGeneres Show, first describing how she saw him with girlfriend Dakota Johnson at Ellen's birthday. But, even better, she had no idea who he was.
"I didn't know who he was but I saw him and I noticed that he was gorgeous," Keaton said. "How about that? How could I not have known it was him?"
Unabashed horniness and some not-so-subtle negging of Coldplay. For this, Diane, we thank you once again.