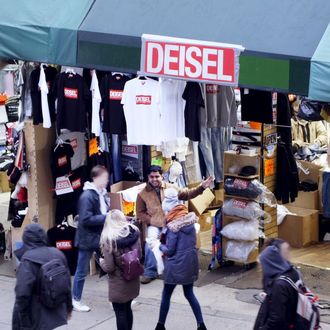 There's something funny about the new Diesel pop-up on Canal Street, which opened secretly this week. Not only is it far from the brand's Madison Avenue flagship, but unsuspecting passerbys most likely won't notice that its signage features a typo: it says Deisel, not Diesel.
But that's on purpose. Starting on Friday at 12 p.m., with a special welcome from none other than Gucci Mane, Diesel's "official knockoff" pop-up will officially open to the public. One of a kind "Deisel" pieces like hats, tees, and sweatshirts will be available for purchase, with a red box logo that looks a lot like that of Supreme. There will also be a limited edition denim collection for sale, plus a selection of the brand's lifestyle offerings. Prices range from $10 to $200, which is a steal, relatively speaking. Diesel baseball caps, for example, normally run for about five times the price uptown.
"We were intrigued by the logo-mania trend and the world of counterfeit culture," explained Diesel founder Renzo Rosso in an email. "So we engaged in this in our way: playful and ironic at the same time."
Designers like Gucci's Alessandro Michele and Demna Gvasalia of Vetements and Balenciaga have done similar work with knockoffs in the past. Michele brought the artist Gucci Ghost onboard in 2016 for a "real fake" collaboration, plus he also messed with the spelling of Gucci in his cruise 2018 collection, calling it "Guccy" instead. Meanwhile, Gvasalia has hosted "official fake" Vetements pop-ups in cities like Seoul. The Instagram account @DietPrada has also become the unofficial knockoff police, encouraging designers to either avoid references, or embrace them even more.
"There's always been knock-off culture, otherwise we wouldn't fight to protect our brand from counterfeit bringing on so many battles for this," said Rosso. "But we want to celebrate people who embrace their imperfections and above all feel free to wear what they want, being relaxed about the style rules of today and at times ending up shaping the rules of tomorrow!"
Rosso himself has never purchased anything on Canal Street, but he often visits to see which are the most copied. "If someone copies you it means that your brand is worthy and top of mind with consumers," he said. "It's a sort of real-life market research."
New Yorkers can shop the "Deisel" capsule collection at the Canal Street store, located at 419 Broadway, on Friday, February 9, at 12 p.m. through Monday, February 12. The collection will be available globally on February 13 on diesel.com.