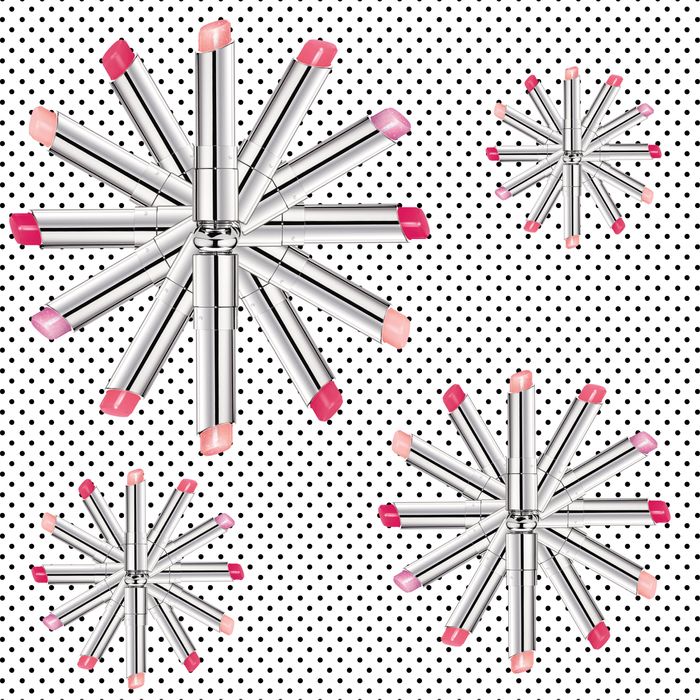 Dior is competing with L'Oréal for the best glow-related pun. A video from its spring campaign features Bella Hadid saying, "Let's glow, girls," inviting you to join her Glow Squad. Dior is celebrating the release of six new shades and a new formula for one of Hadid's "favorite products ever," the Dior Lip Glow balm.
The next-level balms, officially called Dior Addict Lip Glow Color Reviver Balm, come in three different finishes, two of which are new: matte and a trendy holographic, or "holo." The holo balms come in shimmery rose and lilac, while the matte balms come in rose and raspberry tints. There are also two new hues, raspberry and bright pink, in the classic Glow finish. Most of the ten shades, including the four original colors (pink, coral, lilac, and berry), stick to a lighter color scheme.
Dior's original Lip Glow formula has been around since 2009 and the company boasts that one tube is sold every three seconds (there goes another one!). Each of the new Lip Glow products contains Dior's Color Reviver technology, which creates a custom color based on your lips' pH levels. The holographic shades, by far the most exciting in the collection, come with a hint of shimmer for a plumping visual effect.
You can buy the lip balms anywhere Dior is sold, while you picture Hadid saying, "If homegirl is coming through with theeeese, homegirl is gonna, like, have to join my Glow Squad," every time you apply it.
If you buy something through our links, New York may earn an affiliate commission.