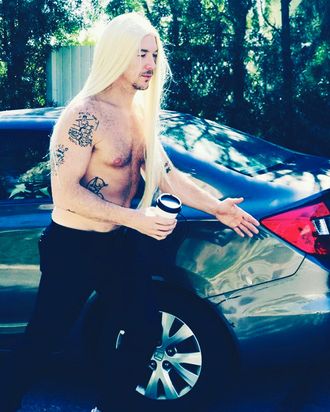 Diplo.
Photo: Courtesy of Instagram/diplo
Yesterday, the world was introduced to an army of Kim Kardashian West "Klones" including Sarah Snyder (Jaden Smith's ex), Amina Blue, Jordyn Woods, and most notably, Paris Hilton. These influencers and celebrities were all enlisted to recreate Kanye West's Yeezy Season 6 lookbook, which Kim herself starred in this December, posing paparazzi-style around Calabasas.
As intended, images of Yeezy Season 6 Klones quickly spread across social media, with many offering their own amateur take on the lookbook. By Thursday afternoon, a clear winner had risen from the khaos: none other than our favorite Helmut Lang–loving DJ, Dilpo. He is the only Kim Kardashian West Klone we recognize because, well, it's obviously him underneath that blonde wig. We see you, Diplo.
Kim recognized Diplo, too, blessing him with a "crying with laughter" emoji retweet on Twitter. We hope she realizes her grave mistake of not casting him in the first place. He even geo-tagged "Little Armenia." (The Kardashians are Armenian. Diplo is all about the details.)
Diplo also (clearly) loves fashion! Hello, Helmut Lang is his "homie!" As far as we're concerned, there is no fashion show worth attending — nay, any lookbook worth viewing — that Diplo is not a part of.