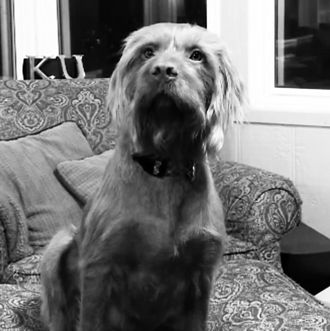 Angus the dog.
Photo: Courtesy of KWCH12
Last fall, we reported that the hottest teen trend of the moment was running for governor in Kansas. Since then, even more teens have announced their candidacy after learning that there's no age requirement for the job. (Hey, it's marginally better than eating Tide Pods.) And now, we've reached the next logical conclusion to this loophole: a dog is trying to run for governor.
Per KWCH-TV, Kansas resident Terran Woolley was so inspired by the flood of teens entering the race that he entered his three-year-old dog, Angus. He says the wire-haired vizla would run on a platform of "soft couches, Tempur-Pedic beds, free-for-life universal chuck-it ball supplies and a completely anti-squirrel agenda."
"I do believe that he is a caring, nurturing individual who cares about the best for humanity and all creatures other than squirrels," Woolley adds. He also told the Hutchinson News that Angus would have to run as a Republican.
While Angus's paperwork was filed last week, the Kansas secretary of state's office claims that a dog is "not capable of serving the responsibilities required of the governor."
Angus has yet to comment publicly on this injustice.