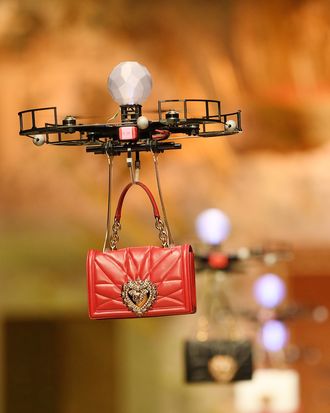 Drones at Dolce & Gabbana fall 2018.
Photo: Venturelli/WireImage
Being human is so last season.
On Wednesday at Milan Fashion Week, we were introduced to the Gucci Cyborg. On Thursday, Prada tapped the virtual "It" girl, Lil Miquela. And on Sunday, Dolce & Gabbana replaced its usual parade of millennial models with drones, which whizzed down the runway carrying fall 2018 handbags.
Upon arrival, guests were instructed to turn off the Wi-Fi on their phones, including any personal hotspots — a comically impossible task for a room full of influencers made famous by the internet, all of whom speak different languages.
After about 45 minutes of waiting, a voice on the loudspeaker started calling out the usernames of guests who still hadn't unplugged, like a school principal summoning delinquents to her office. The theme of the show was "Fashion Devotion," with overt Christian themes like angels, devils, and gilded crosses throughout, but it seems people are far more devoted to their personal hotspots — the luxury accessories of the future.
Finally, the golden gates of Heaven (or Hell, depending on who you're talking to) opened to reveal the need for clear airwaves: drones. Several boxy, leather Dolce & Gabbana fall 2018 handbags hanging on drones floated past, eliciting gasps from the audience. In the real world, drones can be a serious threat, but Dolce & Gabbana didn't seem worried.
Sitting front row to capture the spectacle were British "It" girls, Lady Kitty Spencer (Princess Diana's niece); Ladies Violet, Alice, and Eliza Manners; and Maddi Waterhouse, model Suki Waterhouse's little sister. They all walked in Dolce & Gabbana's "Secrets and Diamonds" show the evening prior, and perhaps thanks to the drones, they had the afternoon off on Sunday.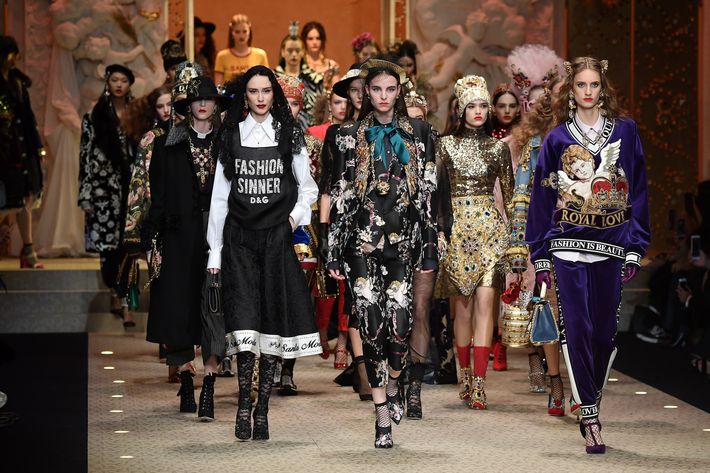 The show opened with one model wearing a bedazzled "FASHION SINNER" top, followed by references to the Garden of Eden, plus plenty of Renaissance angel babies, or putti. There was something for everyone in the collection — no matter their devotion — from sneakers and sequin tracksuits to billowing ball gowns and sharp, Scarface-esque suits. As a whole, it was everything you might expect from a Dolce & Gabbana show, which is to say it was a spectacle of Italian extravagance.
For at least ten minutes, the audience was, in fact, devoted to fashion. But when the lights came back on, so too did everyone's Wi-Fi.