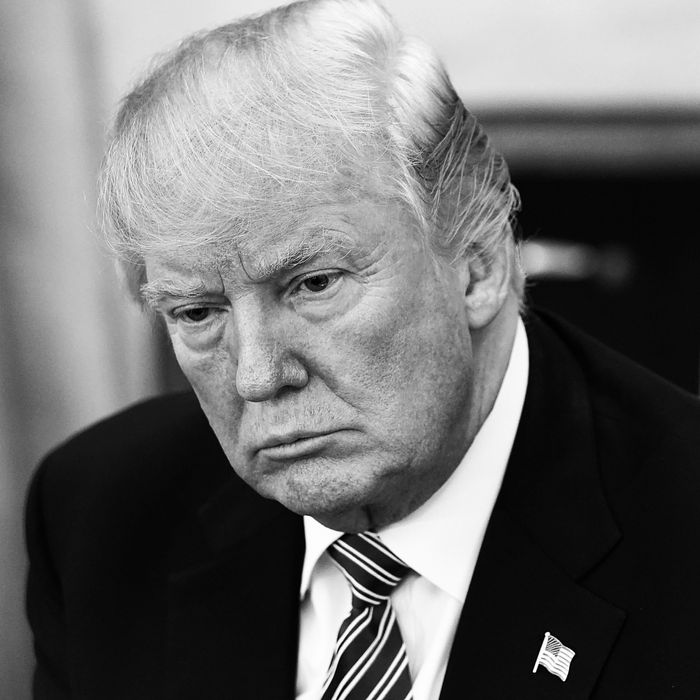 Donald Trump.
Photo: Alex Wong/Getty Images
A new report by Ronan Farrow delves into an alleged affair President Donald Trump had with former Playboy Playmate, Karen McDougal, and the extreme lengths gone to conceal it. According to the report, the two began their affair in 2006 after meeting at the Playboy Mansion. At the time, Trump had been married to Melania for two years and their son, Barron, was a few months old. McDougal ended the affair nine months later when, her friend John Crawford told the New Yorker, "she couldn't look at herself in the mirror anymore."
The White House has called the story "fake news" and said that Trump denies the affair. The report is corroborated by an eight-page, handwritten document McDougal later penned, which Crawford gave to the New Yorker. McDougal confirmed it was her handwriting. Here are some of the biggest bombshells from the report.
A Playboy exec had told McDougal she could "be [Trump's] next wife."
Trump's affection toward McDougal was apparently so obvious that after he met her and before they began the affair, an executive at Playboy told McDougal, "Wow, he was all over you — I think you could be his next wife." Trump had been married to Melania for less than two years and had recently had his son, Barron.
American Media, Inc., which owns the National Enquirer, purchased the rights to McDougal's story before the election.
The Wall Street Journal reported this on November 4, 2016, and McDougal confirmed it to Farrow. AMI had paid $150,000 for the rights to her story, but then never ran it in order to bury it before the election. McDougal didn't discuss the details of her contract with the New Yorker, but said, "It took my rights away … At this point I feel I can't talk about anything without getting into trouble, because I don't know what I'm allowed to talk about. I'm afraid to even mention his name."
McDougal says Trump tried to pay her the first time they had sex.
According to McDougal, she and Trump had sex in a private bungalow at the Beverly Hills Hotel after their first date. McDougal wrote later in the document provided to the New Yorker, "We talked for a couple hours — then, it was 'ON'! We got naked + had sex." Then Trump offered her money. She declined, and wrote that she responded, "'I slept w/you because I like you — NOT for money' — He told me 'you are special." Trump had previously met other women he's alleged to be involved with, like Stormy Daniels and Summer Zervos, in bungalows at the Beverly Hills Hotel.
Trump allegedly made repeated disrespectful comments about McDougal's family and friends.
Part of why McDougal ended the relationship was because of what she described as Trump's pattern of disrespect. When she told Trump that she was worried what her mother thought of the relationship, he responded, "What, that old hag?" McDougal replied that Trump and her mother were close in age. When a friend mentioned in a car ride that she had a relationship with an African-American man, multiple sources confirmed that Trump said she liked the "the big black dick."
The AMI deal was for $150,000, but McDougal was reportedly only paid $82,500.
McDougal entered her contract with AMI willingly, but now says it was exploitative. She signed the contract in August, 2016, giving AMI ownership of her account of any relationship she had with any "then-married man." The three men involved in brokering the deal, including her lawyer and close friend, took 45 percent of the payout. After the deal was done, AMI reportedly blew her off. AMI had promised to publish "hundreds" of columns written by McDougal on aging and fitness, but over 17 months only published nine (AMI said that she never produced the work). Emails obtained by the New Yorker show that AMI had a pattern of paying more attention to McDougal when they were worried she might start talking about her relationship with the President, but largely ignored her otherwise.
McDougal said the #MeToo movement, in part, was why she wanted to come forward.
While she is cautious about retaliation from AMI, McDougal said she was increasingly worried about the "moral consequences of silence." She was ill in early 2017, which caused her to rethink her life. "As I was sick and feeling like I was dying and bedridden, all I could do was pray to live. But now I pray to live right, and make right with the wrongs that I have done." She said in light of all the accusations that have come out in the past few months, she "felt braver." "Every girl who speaks is paving the way for another."
Read the full report here.