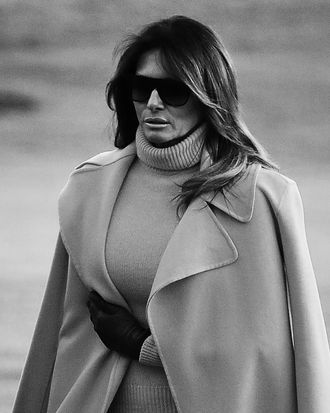 Melania Trump.
Photo: Chip Somodevilla/Getty Images
For a 2005 story about his wedding with Melania Knauss, Donald Trump told the New York Times that Graff Diamonds gave him a $1 million discount on her $1.5 million, 15-carat engagement ring because "only a fool" would pay "a million dollars more for a diamond." Well, color Trump a fool, because based on new reporting from Forbes, the president blatantly lied about the discount.
Three sources confirmed to Forbes that Trump was — shockingly! — being dishonest, including Graff Diamonds chairman Laurence Graff. The billionaire said that Trump was "a pleasure to do business with," but that he was given "no favors" when purchasing the ring. Another Graff authority, CEO Nicholas Paine, said, "We don't sell items for publicity value." A third unnamed source was able to speak to the urgency of the purchase, claiming that Trump "paid for [the ring] in full, and he paid immediately."
Given that Trump dropped another $3 million last year on a 25-carat ring for Melania, what kind of fool does that make him now?