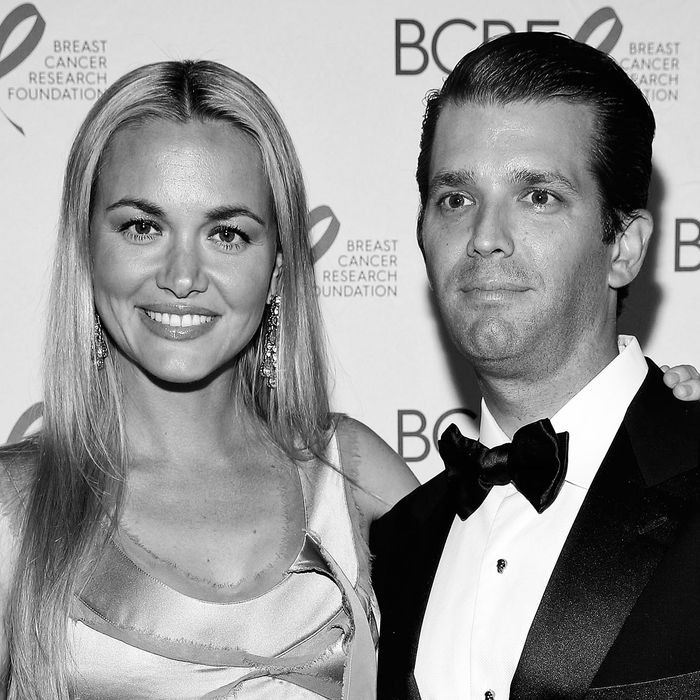 Vanessa Trump and Donald Trump Jr.
Photo: Brian Ach/Getty Images
On Monday, Donald Trump Jr.'s wife Vanessa was rushed to the hospital as a precaution after opening a letter addressed to her husband that was filled with a suspicious white powder (she appears to be fine). Now, NBC News reports the envelope also included a threatening note that called Donald Jr. the "family idiot" and praised his brother Eric.
"You are an awful, awful person. I am surprised that your father lets you speak on TV," the note reads, officials told NBC News. "You the family idiot. Eric looks smart. This is the reason why people hate you. You are getting what you deserve. So shut the fuck up."
According to NBC News, the envelope was postmarked from Boston and mailed to Trump's mother-in-law's East 54th Street apartment. Vanessa and two others were taken to the hospital as a precaution after opening the envelope, but New York police have said the white powder was nonhazardous. Instead, after being taken to a lab for testing, it turns out the powder contained corn starch.
Both Trump and his father called the incident "disgusting," and Secret Service told NBC News on Monday that they're still investigating what happened.