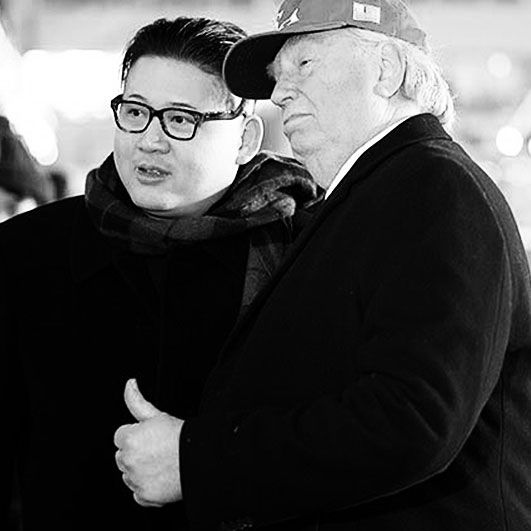 Fake politicians.
Photo: Courtesy of Twitter/SoyReferee
Those attending the Opening Ceremony of the 2018 Winter Olympics on Friday witnessed something more troubling than fringed dish-washing gloves: the presence of President Donald Trump and North Korean dictator Kim Jong-un. Or at least … two dudes impersonating them stopped by the ceremony (and were promptly kicked out).
Vice-president Mike Pence and Kim Jong-un's sister Kim Yo-jong had been sent to represent their respective countries at the Opening Ceremony. That's why everyone was quite surprised to see the big-boy president and shiny-shoed supreme leader at the event. But people quickly realized that the impersonators were not who they seemed … and they were promptly escorted out of the building.
As they were getting kicked out, the Kim impersonator told Reuters, "We're getting along great … We wanted to surprise everyone and bring world peace and then we're being escorted out by security guards, which I think is really unfair. Doesn't everyone want peace?"
But hey, we've seen way worse …