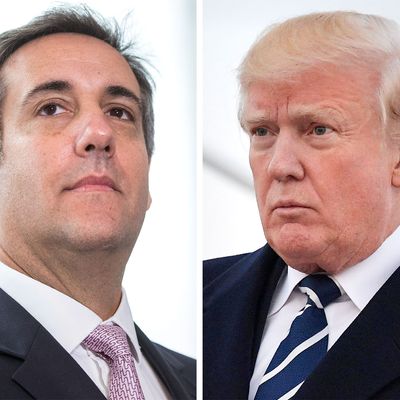 That's what friends are for.
Photo: Tom Williams/CQ-Roll Call; Mandel Ngan/AFP/Getty Images
Last month America got the scandal it deserves right now when the Wall Street Journal reported that longtime Trump attorney Michael Cohen arranged a $130,000 payment to former porn star Stormy Daniels weeks before the 2016 election, in exchange for her silence about an alleged affair with the president. Cohen's initial response did not address the payment, only noting that the 2006 affair "has been denied by all parties since at least 2011."
When the Journal continued pursuing the story, Cohen told reporters, "You're [sic] obsessive drive to prove a false narrative, one that has been rebuked by all parties, must come to an end."
Now, faced with a complaint to the Federal Election Commission, Cohen wants the world to know that he made the payment to Daniels, whose real name is Stephanie Clifford, out of his own pocket.
"Neither the Trump Organization nor the Trump campaign was a party to the transaction with Ms. Clifford, and neither reimbursed me for the payment, either directly or indirectly," Cohen said in a statement to The New York Times. "The payment to Ms. Clifford was lawful, and was not a campaign contribution or a campaign expenditure by anyone."
And what would move someone to give a six-figure sum to a woman believed to have damaging information about their boss? Cohen wouldn't say. Per the Times:
He declined to answer several follow-up questions, including whether Mr. Trump had been aware that he made the payment, why he made the payment or whether he had made similar payments to other people over the years.
The full statement includes a vague suggestion that sometimes it's easier to pay someone off than letting them go through with plans to spread their "fake news" on Good Morning America. … years after telling offering In Touch a vivid account of mediocre sex, spanking, and shark fears.
"Just because something isn't true doesn't mean that it can't cause you harm or damage," Cohen says. "I will always protect Mr. Trump."