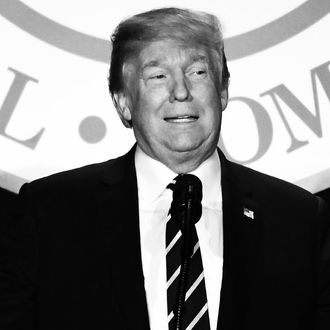 President Donald Trump.
Photo: Pool/Getty Images
Over the weekend, President Donald Trump confirmed that he isn't a feminist (to the surprise of absolutely no one). And on Thursday, the McDonald's lover also made it clear that, shocker, he isn't a member of the "resistance" movement, either.
At the Republican National Committee's winter meeting in Washington on Thursday night, the thirsty boy shared his thoughts about Democrats who have mobilized against (or "resisted") many of the policies he's been trying to push forward (his indefensible DACA policy, stance on abortion, his immigration ban, and so on).
"You know, the name is resist," Trump said in remarks aired by Fox News. "That's the name of their movement. 'Resist.' That's all they do is resist. I don't know if they're good at it; they can't be too good at it because we're passing a lot of things."
Shortly after making the comment, according to The Hill, Trump then kicked the reporters out of the meeting. So we guess we'll never know if the president also talked about his true enemies: sharks.