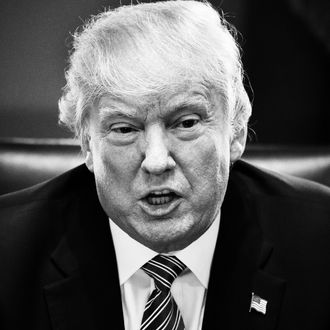 Donald Trump.
Photo: T.J. Kirkpatrick/Bloomberg via Getty Images
Last Wednesday, White House staff secretary Rob Porter resigned after his ex-wives came forward with allegations of domestic violence. But even before the resignation occurred, the White House spectacularly bungled their response to the situation.
To start, Chief of Staff John Kelly and Press Secretary Sarah Huckabee Sanders stood by Porter when the first allegations broke from Porter's second wife, Jennifer Willoughby. Shortly after, first wife Colbie Holderness told her story — which included a photo of her with a black eye that she said was sustained when Porter punched her in the face. It also became clear that the FBI found out about the abuse allegations when they conducted Porter's background check and he was still hired. Then the president finally weighed in on Friday.
"Well, we wish him well. He worked very hard," Trump told reporters, adding that "he did a very good job when he was in the White House and we hope he has a wonderful, hopefully, he has a great career ahead of him."
Which brings us to today, when the president of the United States formally came out to say that he's against domestic violence and that "everyone knows that."
"I am totally opposed to domestic violence of any kind," Trump told reporters. "Everyone knows that. It almost wouldn't even have to be said. So, now you hear it, but you all know it."