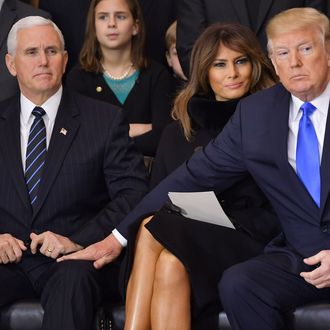 Mike Pence, Melania Trump, and Donald Trump.
Photo: MANDEL NGAN/AFP/Getty Images
During a memorial service for the late Reverend Billy Graham in the Capitol Rotunda on Wednesday, President Trump, in a rare display of public affection, reached over his wife Melania to place a firm, but gentle hand on Mike Pence's thigh. Pence looked as comfortable with the president's touch as you'd imagine, his mouth squeezed tightly shut, his hands gripping the hem of his suit jacket.
Was it a gesture of reassurance? A warning? We may never know. I would like to know how Karen felt about it, though.