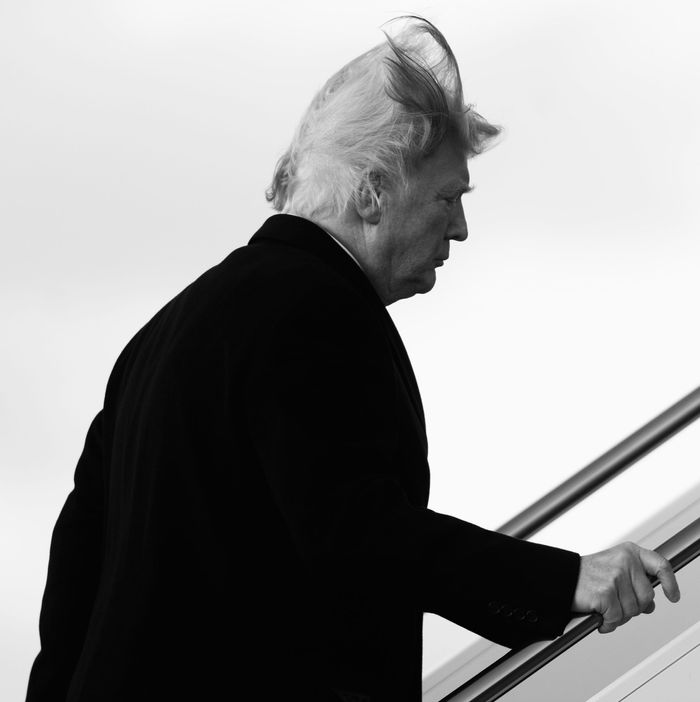 "We meet again."
Photo: SAUL LOEB/AFP/Getty Images
Donald Trump has many enemies, from his political foes to the haters and losers to all sharks. But the most fearsome, formidable one among them is also one that can never be defeated: the wind.
A video of the president boarding Air Force One last Friday is now making the rounds online, as his hair is swept up, down, and all over in a most unfortunate manner.
It was only the latest in his long, vicious war with the wind — so let's take a look at some of their recent battles.
Trump Calls the Wind "a Very Deceiving Thing"
In November 2016, when the New York Times questioned him about wind farms, he said, "I have a problem with wind." He then continued to lambaste the wind, calling it "a very deceiving thing" and adding that "windmills kill birds."
Scotch-Tape Tiegate
The president is a man obsessed with appearance, including when it comes to how his employees dress. Interestingly enough, in December 2016, the wind exposed that his own businesswear was lacking: His tie was held together by Scotch-freaking-tape.
The Butt Thing
The wind hasn't just been responsible for bad hair moments: In January 2017, it blew up his suit jacket just enough for the country to realize that Trump — forgive me — is thicc.
Trump Working It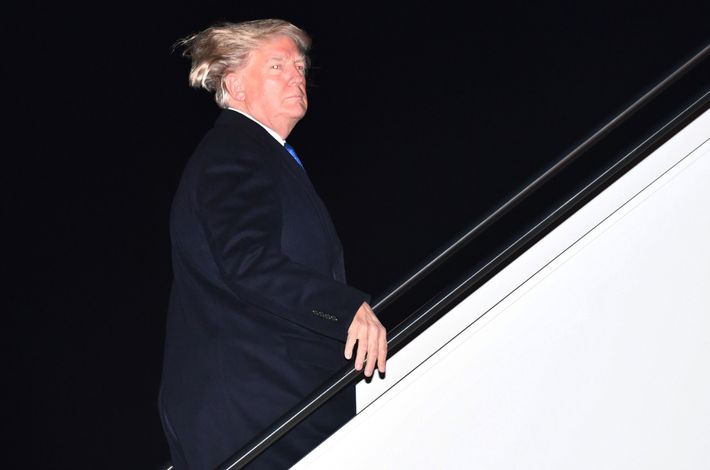 On the way to Davos last month, the wind blew Trump's hair back completely and he stopped to strike a pose, seemingly in an attempt to let the wind know who's boss.
It's safe to say the wind is winning.