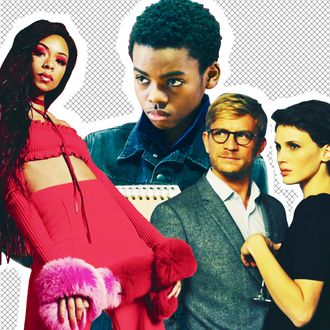 What's Good is a weekly column collecting TV, music, movies, and miscellaneous cultural ephemera worthy of your time. Why? Because we like it. Check back Fridays at lunchtime for your guide to what is good.
Double Lover opens with a loving shot of a pulsating vulva that quickly and creepily cuts to a shot of an eye — which means, yes, fans of psychosexual thrillers can immediately rest assured that they're in the presence of a perfect entry into the gloriously trashy genre. And because it's a French film, directed by master of the genre François Ozon (Swimming Pool), viewers can feel free to wholeheartedly enjoy the glossy veneer of highbrow smutty cinema, the equivalent of last night's caviar tossed into 24k gold-foil garbage sacks and carted away by men in white gloves. (One can even use its French title, L'Amant Double, should they wish to alienate friends and loved ones. )
An adaptation of Joyce Carol Oates's Lives of Twins, the film stars Marine Vacth as Chloe, a 25-year-old raven-haired sad. She's a former model with dark circles under her eyes, a cat as her only companion, and mysterious stomach pains that are most certainly psychosomatic. She lands in the chair of extremely hunky and patient psychoanalyst Paul Meyer (Jérémie Renier), and — you can see where this is headed (toward the erotic) — they ignore some real medical ethics and start a relationship. At first, all seems well. They move in together; Chloe's mental health is stable, and she gets a new job. But gradually, she learns that Paul has an estranged and dangerous twin brother, Louis Delord (also played by Renier), who is also a psychoanalyst. No spoilers here: They start having sex. Lots of it. There are dark secrets and dangerous lies, and soon Chloe has no idea who she is sleeping with, who is dangerous and who is not, who's who they actually say they are, and who is lying … but my god, is she turned on.
I've spent this Eros month doubling down on a lineup of erotic thrillers, from Basic Instinct to In the Cut to Poison Ivy, and I can still say: This is the one of the most twisted psychosexual thrillers I've seen in some time (and Cat People is about a woman who turns into a panther whenever she gets horny). Truly, Double Lover is a grab bag of genre hallmarks. Sexually speaking, there's: pegging, rape fantasies, an autoerotic threesome, period cunnilingus, very aggressive fingering, light choking, twincest. There's also a cat heart in the mail and a birth scene that I can only describe as what would happen if babies could perform their own C-sections.
While it's certainly the most twisted psychosexual thriller I've seen in a while, it's hardly the most psychologically interesting. Ozon's exploration of hysteria and frigidity feels tiresome and very male. But at the film's heart, there is a story about the thrill and danger of a woman pursuing the exact sex she wants. In this case, it's sex with twin brothers who might be playing a dark mind game. And man, does that sex seem great.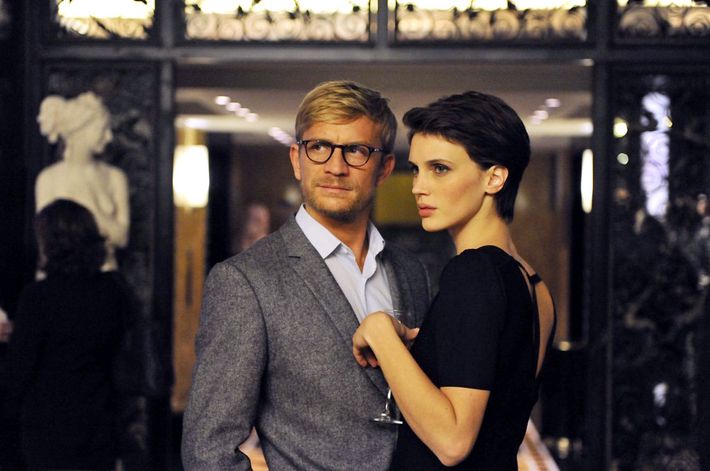 Everything Sucks! Except This Show.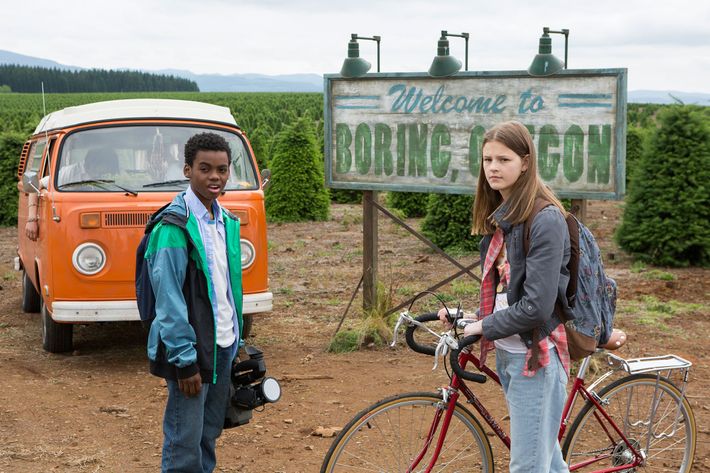 It's been an incredibly hard week, so the premiere of a highly charming, nostalgic, coming-of-age Netflix series could not come soon enough. Imagine if Freaks and Geeks were set in the '90s and you have Everything Sucks! It's the same general idea: a show that focuses on outcast teens (and some adults) at a high school in Boring, Oregon, where two opposing groups (AV-club nerds and drama kids) find ways to come together to survive the hell that is adolescence. The show is nothing major, an earnest slice of life about a time when little else mattered but making a shot-by-shot version of Oasis's "Wonderwall" video to ask out your crush (yes, that does happen). Freshman Luke (Jahi Di'Allo Winston) is in love with his fellow AV club member Kate (Peyton Kennedy), which is what most of the story revolves around. But while the plot might sound like a Netflix algorithm is doubling down on our love of Stranger Things and End of the F***ing World, we learn early on that Kate is struggling through a really complicated sexual awakening — suddenly, a charming-ish show that references Tamogatchis and Gwen Stefani's Tragic Kingdom–era bantu knots becomes a thoughtful show about a young girl's lesbian coming-of-age.
A Shortcut to a Weekend Soundtrack
Rather than spend any time at all making a playlist that will consist of Drake's "God's Plan" and nothing else, take Ravyn Lenae's new EP, Crush, out for a spin. Lenae is a Chicago neo-soul singer with a love of disco (both aesthetically and sonically). Songs like "The Night Song," about getting ready to go out, are personal and self-affirming, as if SZA had a love-child with Diana Ross. (Appropriate, since Lenae spent the summer opening for SZA on tour.) Check out the especially and diabolically catchy "Sticky."
Valentine's Day Songs, Ranked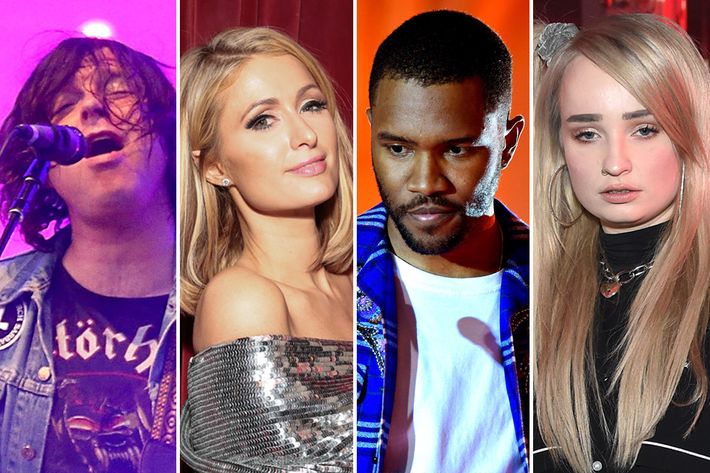 Just because they love us, a handful of artists put out Valentine's Day singles this year. Here, a quick ranking, from "Better than being in love" to "Worse than getting dumped via Instagram DM on your birthday."
1. "Moon River," Frank Ocean: Oh I'm sorry. Did you need your heart? Because out of nowhere, Frank Ocean reached into your chest cavity and ripped it out. Enjoy his sparse and very him cover of "Moon River." And know that somewhere, Brad Pitt is weeping beautifully, just like us.
2. Kim Petras, "Heart to Break": Love often inspires the best songs, and with heartache, even better ones. Petras, a German pop singer worthy of all obsession, turned heartbreak into an excellent and frothy electro-pop song . You'll dance through your tears and cry through your dance moves.
3."Baby I Love You," Ryan Adams: Jangly guitars, check. Plaintive male singing voice, check. Ryan Adams on the same old bullshit since the early aughts, check. Sad-sack lyrics. None. What? That's right, in a not-terrible song, it seems Ryan Adams has decided to be happy. There is hope for all of us
4. "I Need You," Paris Hilton: If only we were all as committed to our SO's as Paris is to her 2006 self. Sadly, those of us hoping for something as perfect as "Stars Are Blind" are in for true heartbreak with this single.