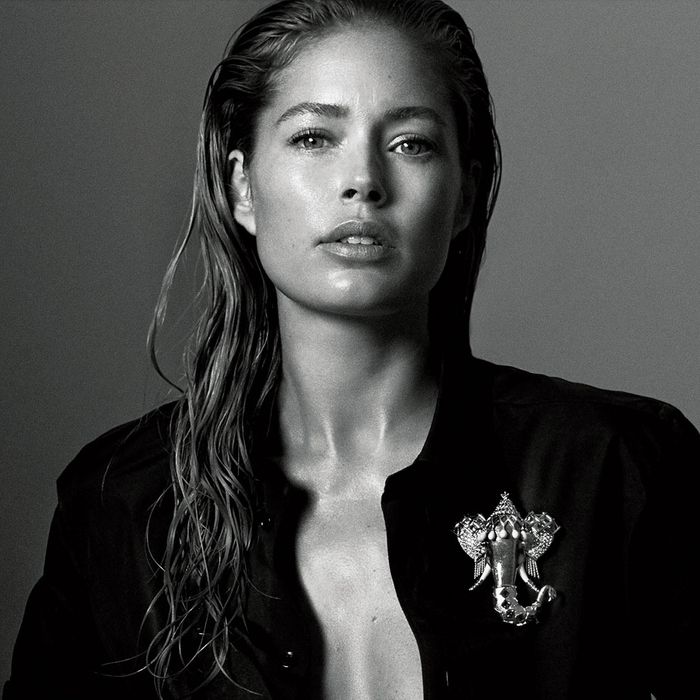 Doutzen Kroes.
Photo: Courtesy of Tiffany & Co
On Tuesday night, as members of the fashion industry descended for New York Fashion Week, Tiffany and model Doutzen Kroes celebrated fashion mobilizing to do good with their Save the Wild collaboration, a line of jewelry that has raised $1.5 million since it was launched in September 2017, with all proceeds going to the Elephant Crisis Fund.
Kroes became involved in the project in 2015, when she took her first trip to Africa at the recommendation of her agent, David Bonnouvrier. "It was love at first sight," she said of the elephants, "but I also learned about the crisis, and that there's 30,000 elephants killed each year, one every 15 minutes."
The trip prompted Kroes to start a nonprofit to raise money and awareness to end the ivory crisis. "We called it Knot on My Planet because elephants are known for their incredible memories, and human beings tie knots to remember something," Kroes explained. Kroes gathered her friends in the fashion industry and, inspired by the highly popular Ice Bucket Challenge for ALS awareness, they posted videos of knots they had tied to remember the elephants on Instagram, garnering around 1.5 billion impressions on social media.
But awareness on social media didn't translate directly into money, so Kroes reached out to Tiffany. The jewelry brand is known for its support of environmental causes — in 2002, they stopped using coral in its jewelry and the Tiffany & Co. Foundation has supported conservation efforts for years, giving grants in support of Great Barrier Reef Aid, responsible mining, and more.
The collection includes elephant charms, necklaces, bracelets, and brooches in silver and 18-karat rose gold. Each piece includes a tsavorite, a green gemstone found in the African Serengeti in Kenya. The prices range from $15o for a small elephant charm to $20,ooo, which will get you a diamond-encrusted elephant brooch.
With the release of the collection came another, more high-end Instagram campaign. Once again, Kroes used her connections in the fashion industry and called on celebrities such as Zoë Kravitz, Elle Fanning, and Janelle Monae wearing the line to join the campaign, giving profits a big boost.
With plans for another brand to come onboard (she couldn't name it, but said it's "a great brand from Europe"), Kroes's ultimate goal is to save the species so generations to come can enjoy their beauty. "I want for my kids and their kids, for the next generation, to see elephants in the wild," she said. "We want to be not necessary anymore at some point."