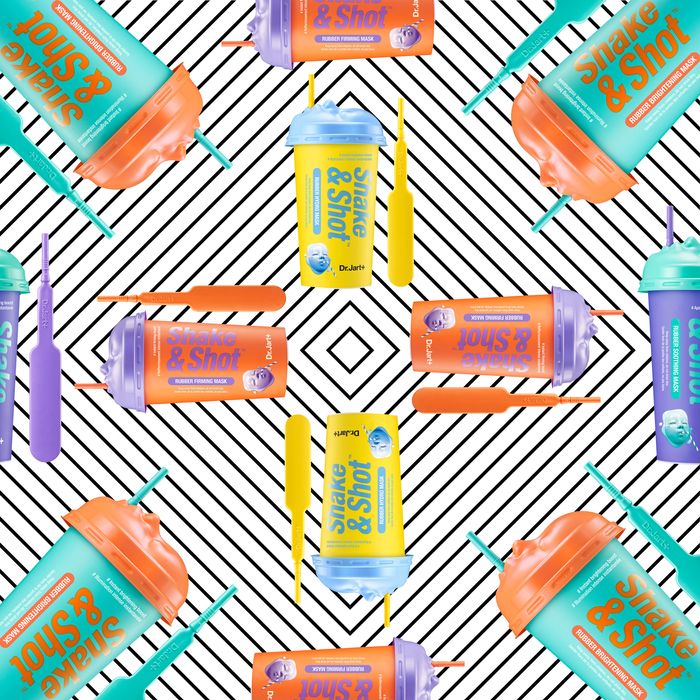 Photo: courtesy of Dr. Jart
Dr. Jart, the Korean skin-care brand that credits itself for introducing America to BB creams, released a line of masks that will cover your face in moisturizing rubber. Shake & Shot Rubber Mask is their latest face-mask innovation, and it's as entertaining as it sounds. The line is an updated version of the award-winning Dr. Jart Lover Rubber peel-off masks. Some people consider rubber masks a better, more moisturizing alternative to sheet masks, because the rubber doesn't dry as fast.
There are four Shake & Shot masks, each designed to address a different skin concern: dry skin (Hydro), sensitive skin (Soothing), acne-prone skin (Brightening), and fatigued skin (Firming). The Dr. Jart brand is backed by a group of 15 dermatologists, who help select ingredients for the masks based on research and work from different clinics.
All of the masks contain a liquid serum in a single-serving shot-size bottle, and each one uses a different vitamin "super booster" to create a cocktail for your face. The vitamin packs can contain violet extract to moisturize, aloe vera to soothe, grapefruit to brighten, or retinol for an anti-aging effect. To mix the mask, you combine two packets in a cup, place a finger over the hole in the lid, and shake it like a martini.
Vigorous shaking will transform the mix into a rubbery, gel-like texture, which you apply using a spatula. After about 15 minutes, the formula hardens and is ready to be peeled off (thankfully, this one won't leave you crying afterwards). Sephora customers said they were "shook" by the instant results while others said it left their skin baby soft, which is fitting since the bottle's lid looks like a baby's face.
The masks are available now at Sephora.
If you buy something through our links, New York may earn an affiliate commission.