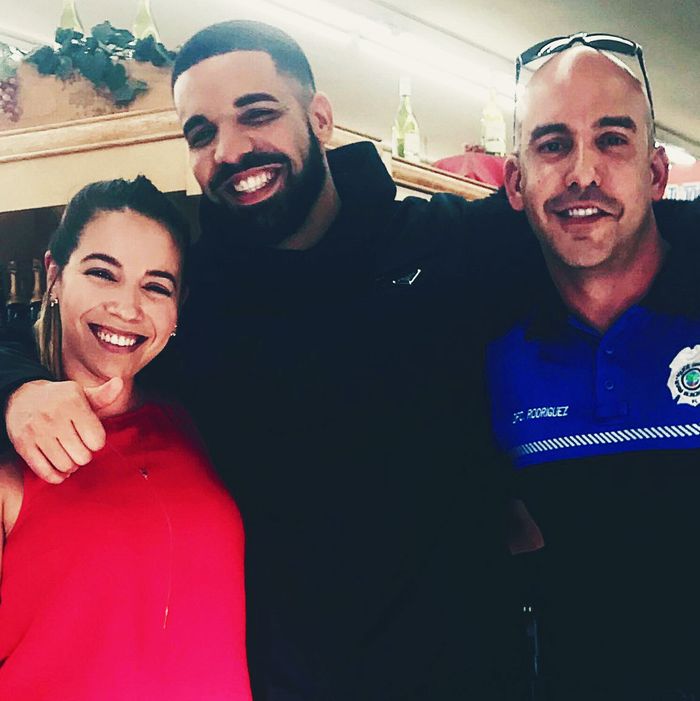 Doing good deeds.
Photo: Courtesy of Twitter/ERodriguez782
This week, hopelessly romantic rapper Drake redirected his funds from collecting Birkin bags for his future soulmate, to helping out the people of Miami.
He kicked off his goodwill campaign on Monday, by donating $25,000 and hundreds of OVO uniforms to Miami Senior High School. Later that day, he showed up at the University of Miami, where he presented student Destiny James with an oversize check for $50,000 to go toward her tuition. And if all that wasn't enough, on Tuesday, he surprised shoppers at the Sabor Tropical Supermarket when he came into the store with a megaphone and announced he would be paying for everyone's groceries. The rapper reportedly spent about $50,000 at the store, and also went around taking selfies with customers.
According to E! News, some people have been speculating that these good deeds are going to be part of Drake's upcoming music video for "God's Plan." Whatever his motives may be, just imagine being able to say, "Oh, these super jumbo tampons? Drake bought them for me."
That is truly a gift.