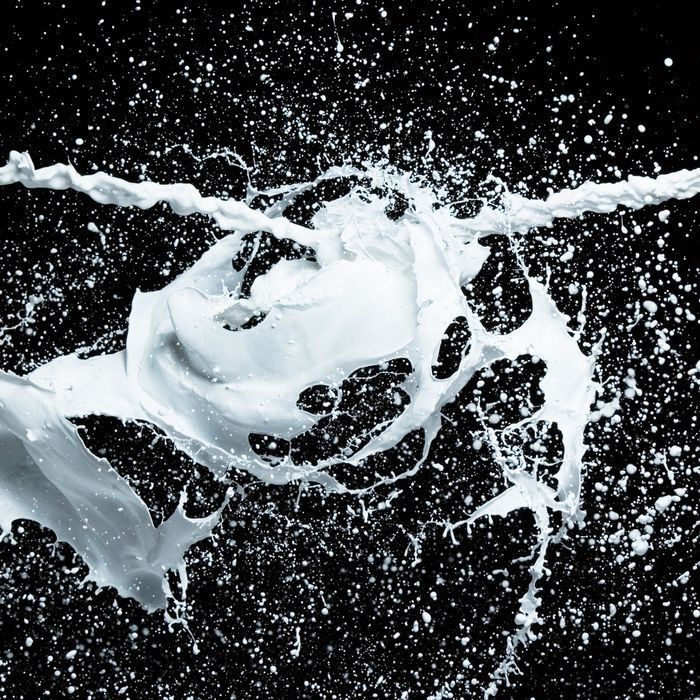 Photo: Jonathan Knowles/Getty Images
Cringe-worthy Instagram mishaps happen all of the time, but the latest niche drama revolves around two popular millennial skin-care brands. This week, a screenshot began circulating on Reddit, showing that someone with access to Drunk Elephant's Instagram ridiculed Glossier's skin-care ingredients and accused the brand of copying Drunk Elephant's product packaging. And from there, it gets weird.
On January 17 Glossier released "Solution," an exfoliant designed to smooth skin and clear pores. The next day Ryan*, a New York City-based photographer, noticed an odd comment on a Glossier Instagram post promoting Solution. "I'm not on my high horse," the comment began. "Others have left the same comment and this is a place for feedback for @glossier. Why do you care? Fragrance doesn'nt [sic] belong in skincare products. It's not good for you so why do companies keep using it? That's a fair question. I wanted to get this for my daughter because it's a cheap alternative but now I can't." The comment, surprisingly, was written from Drunk Elephant's Instagram account.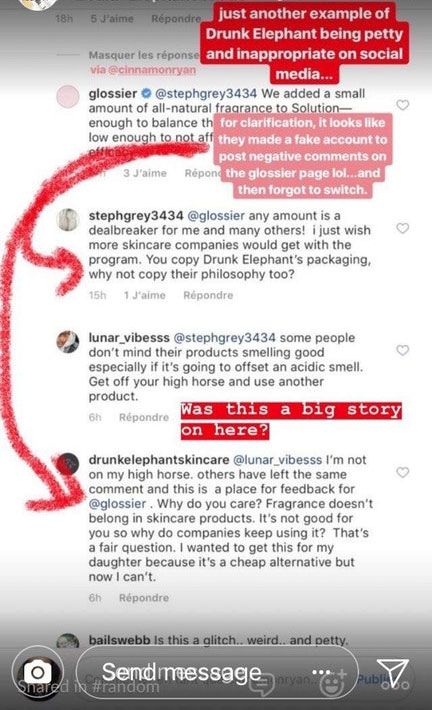 The author behind Drunk Elephant's comment and another account, @stephgrey3434, appeared to be one and the same. Nine hours before Drunk Elephant commented on the Glossier photo, @stephgrey3434 wrote the following under the same Instagram post: "any amount is a dealbreaker for me and many others!" Referring to the inclusion of fragrance in Solution, @stephgrey3434 continued: "i just wish more skincare companies would get with the program. You copy Drunk Elephant's packaging, why not copy their philosophy too?"
Are you following? Here's the drama: Instagram allows multiple-account owners to easily toggle back and forth between accounts. If you're a social-media manager, for example, you can switch from managing your personal Instagram account to your company's Instagram in a single click. Equipped with knowledge of that feature, Redditors theorized that someone from Drunk Elephant created @stephgrey3434 for the sole purpose of bashing Glossier and other competitors. That's a claim Drunk Elephant's founder Tiffany Masterson vehemently denies. "I'm sick about it," Masterson told the Cut. She said she was notified of @stephgrey3434's comments the day after they were written. "I think it was someone who helped us out on the account in the past — I'm not the only one who's on the account, my social manager's not the only one who is on the account."
Unsurprisingly, @stephgrey3434's Instagram account has since been deleted. But fake commenters beware, Reddit never sleeps.
For those keeping tabs on so-called beauty feuds, this is Drunk Elephant's second drama of 2018. In January, Deciem, a company known as the "Everlane of skin care," released an ad that seemingly attacked Drunk Elephant. "One would have to be drunk to overpay for Marula," read the ad. Both Deciem and Drunk Elephant sell a 30 mL bottle of "100% Marula oil." While Deciem's retails just under $10, Drunk Elephant's is $72. Two weeks later, Brandon Truaxe, Deciem's somewhat controversial founder, apologized for the dig. "Speaking of elephants, I once wrote that one would have to be drunk to overpay for Marula oil which was a distasteful joke that arose from my familiarity with the beautiful brand, @drunkelephantskincare," Truaxe wrote on Instagram. He continued to directly address Masterson: "I'm sorry. When I met you at the WWD breakfast, I saw a beautiful soul. And you have worked hard to build a beautiful brand."
Despite a rocky start to the year, Masterson is charging ahead with the day-to-day operations at Drunk Elephant: "I'm focused on doing the right thing and typically not focused on other brands at all."
Drama aside both brands make some of our favorite products.
*Last name omitted at Ryan's request.