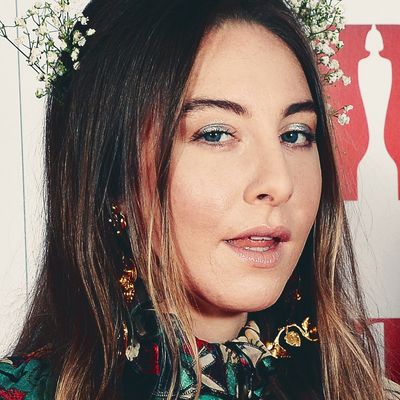 Este Haim.
Photo: Dave J Hogan/Getty Images
Tonight, at the BRIT Awards, during an on-camera interview with One Direction's Liam Payne and girlfriend Cheryl Cole — it was Haim bassist Este Haim who stole the frame.
Going for it, interviewer Jack Whitehall asked Payne and Cole about their safe word during sex. (Cole's answer: "Don't stop.")
Meanwhile, in the background, Este Haim — the tallest sister usually with the longest, straightest, soft hair — was playing to the camera.
She put on lip gloss slowly as if she were looking at her reflection in the mirror. She then waved at the camera and mouthed, "Call me," with a few exaggerated winks to the viewers at home. (See below.)
Her cameo as the mystery drunk woman was very popular on Twitter. But tonight she cleared up any rumors she had too much to drink, tweeting:
"Not drunk, just living my truth."