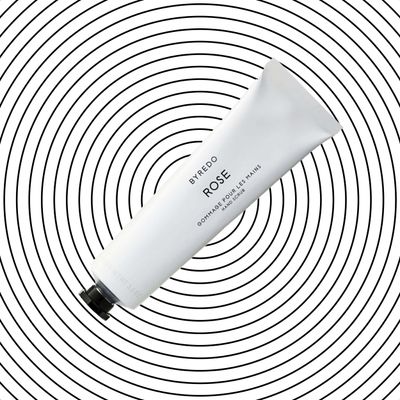 Last fall, while previewing a selection of upcoming beauty launches, I spotted a tube of hand scrub. "Huh?" I said out loud, perplexed why such a thing would exist. I squeezed a drop onto my hands, rubbed them together, and then wiped away the residue with a face wipe. My hands felt smoother. Softer! I was hooked.
Hand scrubs can soften rough hands or hands you already thought were pretty smooth (no, they can be softer!). They're different from body scrubs in that they are made with finer, less abrasive granules. Armed with humectants, they also moisturize. And by removing dead skin cells that lay on the outermost layer of skin, the exfoliating grains allow lotion to absorb into your skin more efficiently.
I tried Byredo's Rose Hand Scrub first. It smells of roses, but not the cloying, grandmotherly rose that might annoy you. After scrubbing and rinsing the beads down the sink, I found that the scrub had a transformative effect on even my sad, uncomfortable hands.
Susanne Kaufmann's "Hand Peel" was my second hand scrub. The scrubbing granules are even finer than Byredo's, and the floral scent is more subdued. Like Byredo's product, this is a weekly treatment that you rinse off in the sink. It's a smidge more hydrating than Byredo, and a smidge more expensive, too.
Which is an issue with hand scrubs: They can be a splurge (or at least another product to add to your bougie beauty stash). Lush's Salted Coconut hand scrub is as luxurious as the former two, but it's a terrific affordable substitute (a review titled "I dumped my fiancé to marry this product" says it all). As a bonus, it also smells like dessert.
Do you need a hand scrub? Absolutely not. Instead, think of them as a hand-cream complement. They bolster lotion's moisturizing power to heal dry, cracked hands. And in the doldrums of winter, nothing could be more helpful.
If you buy something through our links, New York may earn an affiliate commission.