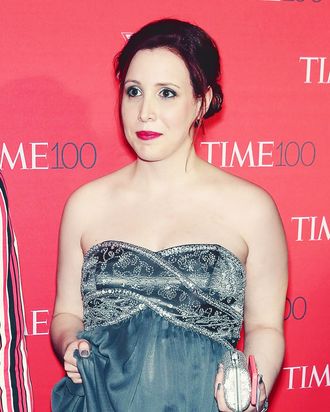 Dylan Farrow.
Photo: Neilson Barnard/Getty Images
Long before the current #MeToo moment, Dylan Farrow came forward with molestation allegations against her adoptive father, Woody Allen, a man who has not yet faced a reckoning. For nearly four years, she has defended her public accusations — most recently against New York Times columnist Bret Stephens, who suggested that she made up her story of abuse.
Titled "The Smearing of Woody Allen," Stephens's column is, ironically and unsurprisingly, full of dangerous insinuations, baseless claims, and truly baffling arguments. To introduce Farrow, he references the essay she wrote for the Los Angeles Times titled, "Why Has the #MeToo Revolution Spared Woody Allen?" and then offers her an unsolicited answer:
But if Farrow wants an answer to her question, it's because we know that the charges #MeToo has leveled against men such as Harvey Weinstein or Kevin Spacey are almost certainly true. The reason they have not been spared is because they are guilty beyond a reasonable doubt. The facts, not the allegations, prove it.
He continues: "If Allen is in fact a pedophile, he appears to have acted on his evil fantasies exactly once. Compare that to Larry Nassar's 265 identified victims."
On Saturday morning, Farrow took to Twitter to respond.
"If @BretStephensNYT is interested, there is much more information he can find on my case than what he cites in his piece, some of which I have posted here," she writes. "To presume I invented this story & convinced myself of it is no less insulting than calling me a liar. I've consistently stated the truth for 25 years, I won't stop now. It's Stephens' right to doubt me if he so chooses but his incredulity doesn't change what happened that day."
It'll take more than a Stephens column to take Farrow down, but what ultimately concerns her about the piece is its potential ability to dissuade other victims of sexual misconduct from coming forward.
For those ready to share their experiences of sexual misconduct, Farrow has repeatedly reminded victims that she will be there for them. "I fully support women taking a stand, linking arms with other women (and men), advocating on behalf of one another to effect change not only in the entertainment industry but in the world at large," Farrow told BuzzFeed News in an earlier statement.