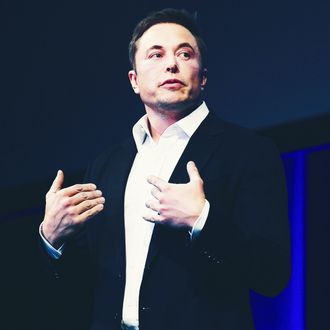 Elon Musk.
Photo: Mark Brake/Getty Images
Elon Musk may know how to launch a car into space, but that doesn't mean he knows when he's at a sex party. Or so he says — the question over whether or not Musk purposefully attended a hedonistic Silicon Valley sex party has resurfaced, forcing us all to consider Elon Musk at a sex party once again.
The issue began when an advanced excerpt of Brotopia, Emily Chang's book on Silicon Valley's toxic masculinity, went viral. In it, she described a typical tech world sex party in lurid detail — and shortly after it made the rounds, entrepreneur Paul Biggar wrote a blog post claiming Musk was there that night.
That led a spokesperson for Musk to claim that while he was at the party, he had no idea it was sex-themed. "Elon was at the party for a couple hours and left around 1am after talking with several DFJ-funded entrepreneurs about technology and building companies," the statement went. "His impression was that it was a corporate party with a costume theme, not a 'sex party', and there was no indication that it would become one after he left."
Okay, sure. Until you consider what he was wearing to said party, which was apparently described more fully in Brotopia.
Chang writes that in private Facebook photos from the party, Musk "appears wearing a black armor-like costume adorned with silver spikes and chains."
Now I, too, would like to be shot to the moon.