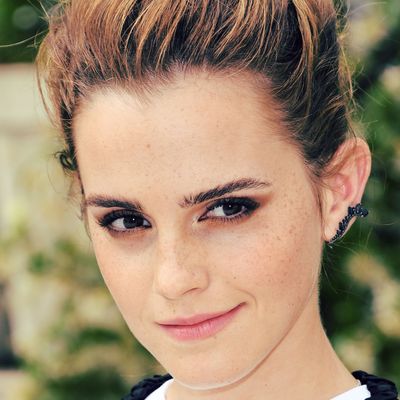 Emma Watson.
Photo: Pascal Le Segretain / Staff/2017 Getty Images
Nobody overachieves quite like Emma Watson. She's been a nerdy witch, a U.N. goodwill ambassador, a Time's Up advocate and benefactor, and, now, she's a guest editor for Vogue Australia. She's editing their March 2018 issue, which focuses on sustainability in the fashion industry. The issue, which features pieces on eco-fashion pioneer Stella McCartney, model Maye Musk, and activist Malala Yousafzai, is titled "Designing the Future."
In her editor's note, Watson called 2018 a "turning point," and not just for fashion. "Silenced voices are becoming amplified and media outlets are shining a spotlight on the people and groups challenging for change." She implores readers to make a small change in their habits in order to make a large impact. Per Vogue Australia:
The word 'change' can be intimidating, riddled with expectation of outcomes and fear of failure. So I want to propose something to you: when steering a boat, a captain can shift the wheel one degree and it drastically changes the course of the boat. I would like to challenge you, after reading this issue, to make a one-degree shift, because a small change can make a huge difference.
Watson has long been a proponent of sustainable fashion. For her Beauty and the Beast and The Circle press tours, she only wore outfits that had been approved by a sustainability consulting group, Eco-Age, and documented it on Instagram.
The Vogue issue also features a shoot with Watson shot by Peter Lindbergh, in which Watson wears a pageboy cap and rocks micro-bangs. Buy the issue for the polarizing hat choices; stay for the political message.