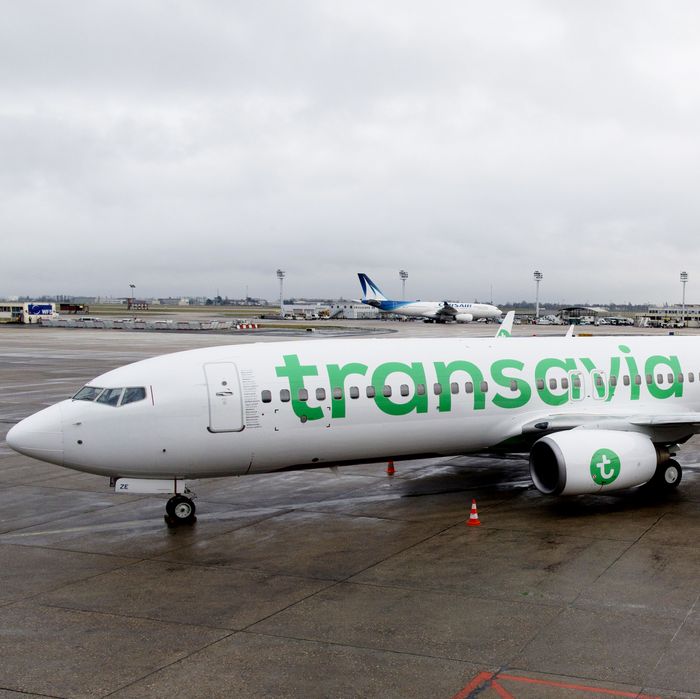 A Transavia plane.
Photo: KENZO TRIBOUILLARD/AFP/Getty Images
When the Wright brothers invented the airplane back in the early 20th century, they never could've dreamed of the new heights aviation would one day reach. Wonders like thousands of journeys a day, in-flight televisions and beds, refreshments served onboard, and the guy who forced his plane to make an emergency landing because he wouldn't stop farting.
Metro reports that a Transavia flight from Dubai to Amsterdam was forced to land in Vienna when a fight broke out. It all started because one man allegedly wouldn't stop farting, even when asked not to.
After the plane landed, two men and two sisters were removed by police. The women are now suing the Dutch budget airline, saying they had nothing to do with the disturbance and that they just happened to be sitting in the same row as the farter and his nemesis.
One of the sisters, 25-year-old Nora Lacchab, also introduced a new layer to the drama: the crew's reported involvement. "We had no idea who these boys were, we just had the bad luck to be in the same row and we didn't do anything," she said. "All I will say is that the crew were really provocative and stirred things up."
Really looking forward to the film adaptation of this gripping narrative.