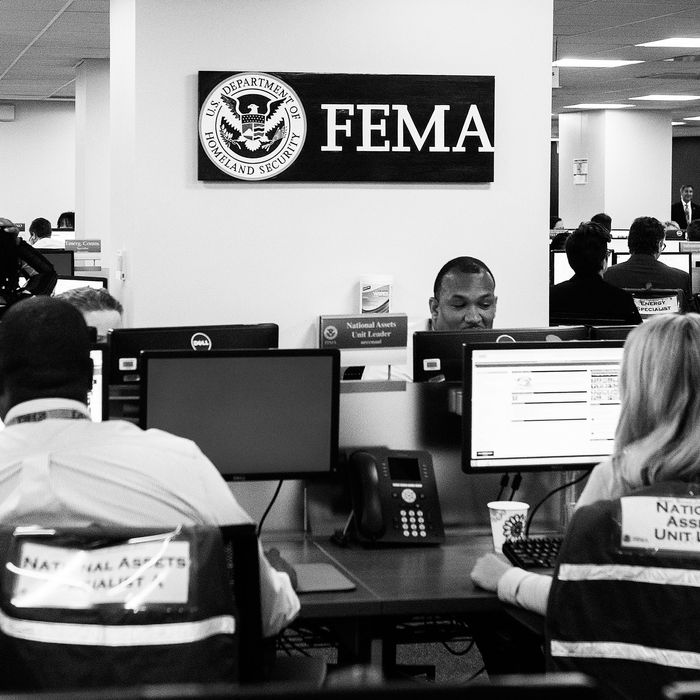 Photo: AFP Contributor/AFP/Getty Images
In an admirable act of solidarity, a former male press secretary for the Federal Emergency Management Agency resigned in part over the front office's treatment of his former female colleague who he alleges faced gender discrimination, Politico reports.
In his resignation letter obtained by Politico, Paul McKellips referred to the office's environment as a "boys club" that excluded the former head of external affairs, Susan Phalen. The latter announced her resignation earlier this month.
"When the front office shut her out, you effectively shut me out as well," McKellips wrote in his resignation letter. "No matter how hard or how often she asked for a seat at the table, she was neither invited to strategic planning meetings nor given access to leadership."
He continued in his letter: "[I] observed firsthand that [Phalen] was unable to penetrate the 'boys club' in your front office. Female executives are not treated the same way as their male counterparts at FEMA."
While FEMA's director of public affairs, William Booher, told Politico that the agency's policy is "to not comment on personnel matters," he unsurprisingly denied the above allegations.
"Our agency is committed to fostering a culture of inclusion and respect, promoting a culture that embraces diversity and allowing all employees the opportunity to achieve their full potential," Booher told Politico. "We reject any assertion to the contrary."