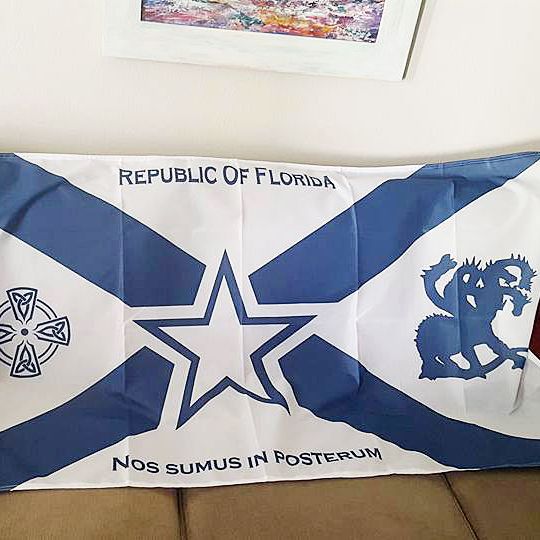 Republic of Florida Flag.
Photo: Courtesy of Republic of Florida
A day after 19-year-old Nikolas Cruz was arrested for killing 17 people at Marjory Stoneman Douglas High School in Parkland, Florida, a leader of the Florida white nationalist group Republic of Florida claimed Cruz had ties to his organization.
According to the Anti-Defamation League, an ROF member who identified himself as Jordan Jereb, and is believed to be the leader of the group, told them Cruz "was associated with ROF, having been 'brought up' by another member," and that he had "carpooled with other ROF members from south Florida to "one or more" ROF training exercises near Tallahassee.
Jereb also told the Associated Press that Cruz "acted on his own behalf of what he just did and he's solely responsible for what he just did." He added that Cruz had "trouble with a girl" and that he did not believe it was a coincidence that the attack took place on Valentine's Day. Authorities have not confirmed Jereb's statements yet.
Per their website, the ROF is a "white civil rights organization fighting for white identitarian politics, And the ultimate creation of a white ethnostate."
Cruz currently faces 17 counts of premeditated murder.
Updated, 02/15/2018, 5:00 p.m.:
Leon County law enforcement sources told the Tallahassee Democrat that they could not find any information linking Cruz to the ROF.
"We are still doing some work but we have no known ties between the ROF, Jordan Jereb, or the Broward shooter," said Leon County Sheriff's Office Lt. Grady Jordan.