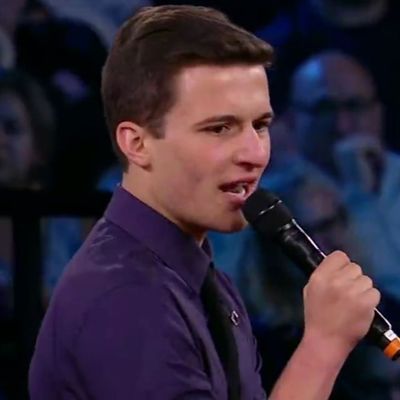 Following a shooting on Valentine's Day that killed 17 of their classmates and teachers, the teenage students of Marjory Stoneman Douglas High School in Parkland, Florida, have stepped, with impressive force and eloquence, into new roles as gun-control activists. At this point, you probably know who they are. You've likely seen David Hogg's interview with CNN immediately after escaping the school, staring into the camera asking that "adults" do something to keep "children" from being gunned down. Or Emma Gonzalez's speech at a rally in Fort Lauderdale last Saturday that inspired people on Twitter to, half-jokingly, cry for her to run for president. Or Cameron Kasky taking Marco Rubio to task during CNN's town hall on Wednesday night.
Kasky asked Florida senator Marco Rubio if he would continue to take money from the NRA. "Can you tell me you won't accept a single donation from the NRA?" Kasky asked.
Rubio hemmed and hawed around answering the question, finally telling Kasky — who offered to fundraise the funds that Rubio historically has received from the NRA — "I will always accept the help of anyone who agrees with my agenda." Earlier in the day, Kasky tweeted that he was taking some time away from Facebook after receiving "graphic death threats" from "NRA cultists." Kasky noted that unlike Twitter, which caps tweets at 280 characters, on Facebook his aggressors could threaten him for as many sentences as they like.
Kasky and his classmates have been very vocal on Twitter since the shooting, something that has given immediate power to their movement. Being able to hear their voices — angry, hurt, scared, and unvarnished by parents or PR representation — is one of the perks of the social-media era that these kids grew up in. Of course, this also opens them up to attack, something that's not just happening to Kasky. An old news video from CBS 2 Los Angeles about Hogg and a friend getting into a spat with a lifeguard on Redondo Beach was the No. 1 trending video on YouTube on Wednesday morning before it was taken down by YouTube for violating that platform's harassment rules. The video's caption claimed that Hogg was an "actor," a lie that has been thrown around lately in an attempt to discredit Hogg and his peers as paid "crisis actors" brought in by anti-gun organizations. Stoneman Douglas students have dragged Donald Trump and right-wing pundit Tomi Lahren, which makes for a lot of Twitter faves and retweets, but also probably some particularly nasty Twitter mentions.
Despite this, Kasky and his peers seem undeterred. Kasky's habit of calling out his trolls via quote-tweet makes this very clear. These teens have already survived a shooting.
They know the very real damage bullets are capable of doing; they aren't going to be fazed by cyberbullies.