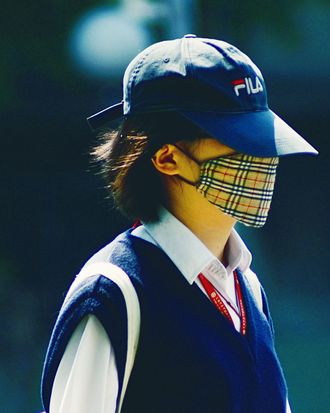 Photo: Gregory Adams/Getty Images
You can't spell influencer without the flu.
This was made abundantly clear during New York Fashion Week, when according to the Post, a handful of style-minded germaphobes attended various events and shows wearing bedazzled, designer-inspired medical masks.
At a party last week hosted by blogger Esther Berg and The Real Housewives of New Jersey star Dolores Catania, Berg herself showed up wearing a white mask with Chanel's double-C logo on the front, which she had crafted by hand.
"I might be scared of the flu, but I don't want to sacrifice fashion," Berg told the Post. "I'd rather look crazy and take these extra measures than wind up in the ER or on the news."
The flu is particularly deadly this year, due to a bad strain of the virus going around. This has left New Yorkers taking extreme measures to avoid it. But, of course, they still make it fashion.
Berg is not the first person to treat medical masks as fashion accessories. You can find them on the streets of places like Seoul, South Korea, and Tokyo, Japan, where masks of every shape, size, and designer logo are common. But Berg is trying to turn her custom-made masks into a bona fide craft.
Below, you can watch Berg's very thorough Instagram video tutorial on how to make "designer-inspired" flu masks like hers. All you need is a Supreme patch, which you can buy on Etsy, plus a glue gun. Et voilà!
In Berg's words: "Stay chic, stay safe, stay fabulous!!!"