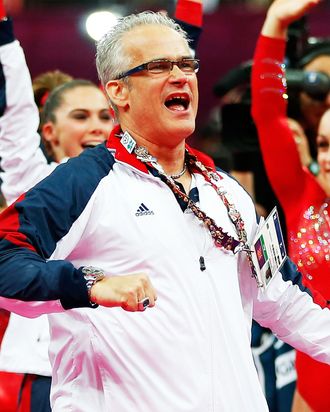 U.S. Olympic gymnastics coach John Geddert.
Photo: Jamie Squire/Getty Images
John Geddert, the former U.S. Olympic gymnastics coach who worked closely with accused serial sex abuser Larry Nassar, has come under criminal investigation, NBC reports.
Until recently, Geddert owned and operated Twistars, a Michigan gym where Nassar offered treatments on Monday nights. But after being suspended by USA Gymnastics last month — the reason for which has not yet been specified — Geddert suddenly retired days later.
The Eaton County Sheriff's office, which is conducting the investigation, has not disclosed the specifics or the number of allegations it has received against Geddert. During Nassar's sentencing hearing, though, many of Nassar's victims brought up Geddert, either accusing him of being complicit in Nassar's abuse or being physically abusive himself.
"My mother once told me, if a boyfriend ever treats you the way John does, leave him," Annie Labrie said of Geddert at Nassar's sentencing hearing.
Lindsey Lemke, a former Michigan State gymnast, said Geddert threatened her after she spoke of the abuse she experienced at Twistars in a victim-impact statement as part of Nassar's sentencing.
"He would take girls by the shoulders, squeeze hard enough to leave marks, shake them, and yell directly into their face," she said. She later called for a criminal investigation into Geddert.
Geddert has claimed that he had "zero knowledge" of the ex-doctor's alleged abuse. After he was suspended, his attorney said he "only wishes to convey his heartfelt sympathy to all victims of Larry Nassar."
Geddert's lawyer has not yet responded to multiple requests for comment on the criminal investigation.