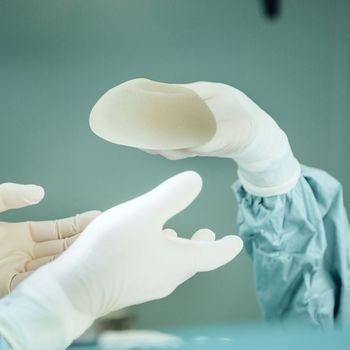 Breast implants.
Photo: Mareen Fischinger/Getty Images
This week, a state in south India launched a program that offers publicly-funded breast implants, The Guardian reports. The services will be available for women and men.
With the new program, the Indian state of Tamil Nadu may have become the first in the world to offer free breast implant services, according to The Guardian. "Why should beauty treatment not be available to the poor? If we don't offer [the procedure for free] they may opt for dangerous methods or take huge loans for it," the state health minister C. Vijaya Baskar said.
The program is operating out of a clinic in the capital of Chennai. The clinic had already been providing free breast reconstruction surgery for cancer patients, The Guardian notes, though it has now extended its service to those who are seeking implants for health or cosmetic purposes.
However, the state's former health director, Dr. S. Elango, is not impressed by the program. "[It] sounds populist but it is not an ideal public health program," he told the Times of India, per The Guardian. "State funds are required for emerging non-communicable diseases and communicable diseases. It is sad that we are now focusing on beauty instead of life-saving surgeries."