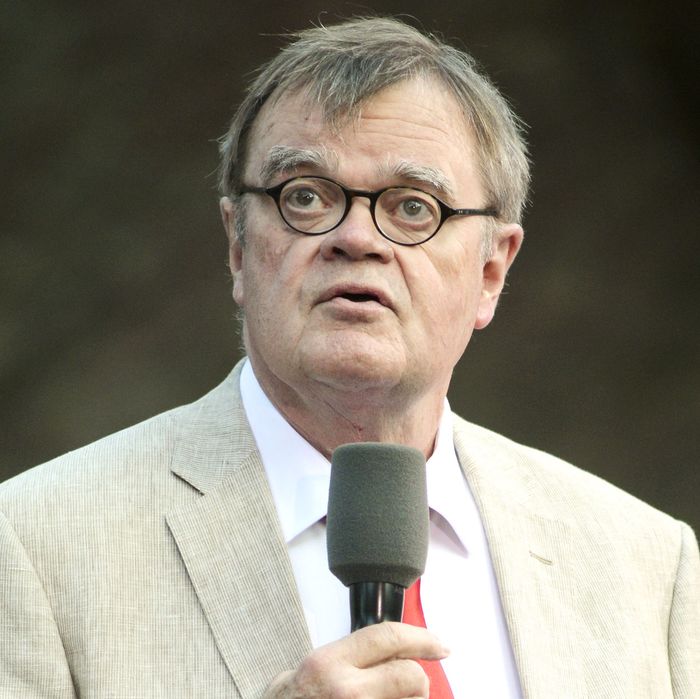 Keillor.
Photo: Tim Mosenfelder/Getty Images
Garrison Keillor is following up on his statement that the woman accusing him of sexual harassment "enjoyed the flirtation." In one of his first extended interviews since the radio host was fired from Minnesota Public Radio for alleged sexual harassment, Keillor is saying that it was just "romantic writing."
His accuser was a freelance contributor for Keillor's show, A Prairie Home Companion, at the time. She said he harassed her over several years by requesting sexual contact and making explicit sexual remarks. Keillor sees it differently, and insists that he did not have any power over her, or even at the show. Per the Associated Press:
"I was not really the boss around 'Prairie Home Companion,'" Keillor said. "I was a writer sitting in a dim office at a typewriter, back in the old days." He also said: "I had no control over her whatsoever. She worked at home."
He continues his quaint description with, "No button was unbuttoned and no zipper was unzipped. I never kissed her … This was a flirtation between two writers that took place in writing."
The woman, through an attorney, told the AP that he had the power to "provide or take away job assignments and opportunities" and said he acknowledged the power dynamic between them. The AP reviewed the emails between them, provided by Keillor's attorney, and found that he did acknowledge their work relationship. Both wrote about wanting to be intimate with each other. Keillor also wrote an email to the woman in 2016 apologizing and she said she forgave him. In November 2017, MPR severed its relationship with Keillor.
MPR, in an internal investigation, found that Keillor had a long history of sexual misconduct and making women feel "mistreated, sexualized or belittled." He has maintained his innocence, time and time again.