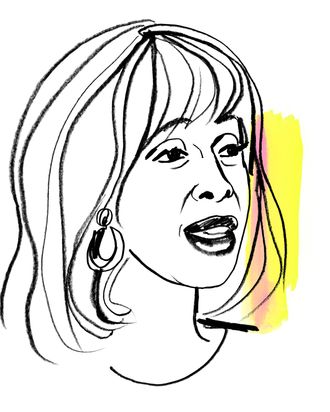 Gayle King.
Illustration: Lauren Tamaki
Gayle King is a busy woman. She starts her days co-hosting CBS This Morning (with Norah O'Donnell and John Dickerson), and then heads over to the offices of O, the Oprah Magazine, where she's the editor of her famous best friend's namesake magazine. She also makes time for awards shows like the Golden Globes, and flies around the country doing interviews. She has two adult kids and lives on the Upper West Side of Manhattan. Here, how she gets it done.
Her morning routine: My alarm goes off at precisely 3:22 a.m., and then I have a backup alarm that goes off at 3:25 a.m. just in case. I'm really glad to say I've never overslept. When we had State of the Union, I had a really long day because I had flown to Chicago to do an interview with Chance the Rapper and then flew back the same day. They told me to go home and take a nap, but I was so worried that I would sleep through the alarm because I was so tired. So I just lay there terrified, afraid to go to sleep. But usually, I wake up, get out of bed, get in the tub, and then the car comes and picks me up at 4:30. We go to the studio and do hair and makeup and meetings before the show, and then it's off to the races.
How she sleeps: We had a sleep expert on our show recently, and we had to wear Fitbits for three days so we could average the amount of sleep we get. Mine was four hours and something. I tell you, I'm happy if I look at my Under Armour band and it starts with a four.
On her workspace: In my office at CBS, I have a painting of a little black girl on a swing, because we've all been on a swing at some point in our lives. It's pretty ginormous — I'd say it's three feet tall — and underneath it I had a plate made that reads, "Wheee." That's how I feel about life in general; I'm just so happy to be here, like the little girl on the swing. I bought the painting in Park City, Utah, when I went to Sundance Film Festival years ago, from an art vendor on the sidewalk.
On regrouping after former co-host's Charlie Rose's harassment scandal: To be honest, I never thought we'd be part of the conversation, so that was a big surprise to me, but I'm so grateful the conversation is happening. Of course, it was painful. But at CBS, we have a lot of professionals. I knew that it would be something we would get through; I knew we weren't going to be devastated or crippled by it, and that would figure it out. We have certainly with John Dickerson. Norah and I are a very strong team together, and everybody that works in that building wants to put out a first class product, and I never doubted that we'd be able to it.
How she got into journalism: I majored in psychology, but I worked at a TV station part-time during college. It was an entry-level position and I just got hooked. On one of my earlier days at the station, there was a breaking-news story. I was fascinated to see how quickly people ran around to get the story on the air. I loved the immediacy of it, and that we could be in a position to give the news. That's why there's a little black girl in my office swinging — because I am that girl.
On her two very different jobs: My jobs live in two different time zones. In TV, you have a deadline every single day. Ten seconds sometimes is the difference between a piece making it or not. With print, you work three months out. As we sit here now, we're already working on the June and July issues. But a good story is a good story, and both at CBS and the Oprah magazine, we pride ourselves on that.
How she juggles her jobs: They are time consuming, but I love them both. My kids are grown — I always say they're employed and potty trained — so it's not like I have to run home to take care of the kids or fix a meal for anybody but myself. You know what my dinner was last night? Honey Nut Cheerios with bananas and raisins. I was so proud of myself; cooking is not my forte. So I don't have to worry about anybody other than me, and I'm good at taking care of myself.
On having a famous best friend: Everybody I know needs to have at least one good friend that they can trust — just one! If you're blessed with more than just one, then lucky you, but a friend that you know you can count on, who will tell you the truth even if you don't want to hear it, and who's your biggest cheerleader. That's important in life, whether your friend is famous or not. Human connection is a big thing.
On the responsibility of the press: I wish the hours were different, I'll tell you that, but I won't bitch and moan about that because I still love this job. It's an honor and a privilege to be able to do it. Words have power. When you're sitting there and that light comes on, or there's something in the written word that people are buying, you have a big responsibility to tell the truth. It's important now more than ever. The media is under siege for being "fake news." But look at the work that the media has done — at the New York Times and the Washington Post and CBS. I say: thank god for the press.
The biggest lesson she's learned through her career: "Don't sweat the small stuff" sounds like a cliché, but it takes a lot to get me really angry or freaked out about anything. I'm a really solutions-oriented person, so you present me with a problem and I try to figure out, okay this has happened, what do we do, and how do we fix it.
On traveling: I'm a very nervous flyer. With all the turbulence and those ditzy-doodles, I always tell the person next to me before they sit down, "You just need to know I'm a very nervous flyer and if it gets rocking-and-rolling up here, I'll be in our lap and you're going to need to rock me like a baby." Some people handle that very well, and others are like, "Ew."
Her nighttime routine: Normally I'll do the treadmill first thing when I get home. We also get CBS homework every night, so I'll start looking at that — I get briefings about who the guests are and what the topics are delivered to my house by 8 p.m. Of course, I'll also watch the news, and then I watch my shows. I love This Is Us. And lately I've been up until eleven or twelve at night, because you just start watching something and you can't stop. So I don't have a set bedtime.