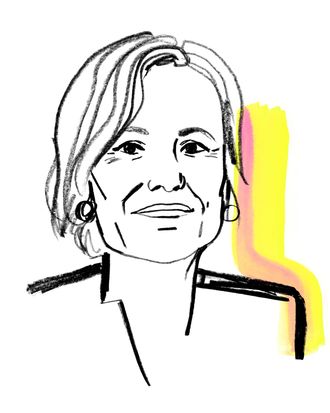 Illustration: Lauren Tamaki
Gillian Tans is the CEO of Booking.com, where she's worked for 16 years. She lives full-time in Amsterdam with her husband and three children, but travels 50 percent of the year to cities where Booking has business. She gets hundreds of emails a day ("probably more") and believes that a company works best when everyone takes ownership over their own work. She never, ever checks a bag when she travels. Here's how she gets it all done.
On what a typical morning is like when she's at home in Amsterdam:
I'm a master at getting as much in a day as possible. I always get up before everybody in the house —I'm up at 6:15 a.m. I know for the United States, that's probably late, but in Holland, it's not. I basically prepare everything. I prepare the lunch boxes for the kids, the breakfast. I like to do that because it's still quiet then. The minute they wake up, it's Mama this, Mama that. The only thing they ask of their father is, "Where's Mama?" Then it's basically getting them ready and out the door for school.
The kids go to school by bike. Sometimes I bring them to school. It depends on if I plan to exercise or if I need to go in early for meetings, but if I don't, then I bike with them, drop them off at school, then I bike over to the office. I try to meet with a trainer twice a week. I didn't used to do that before, but I know that with my schedule, I have to be really fit to do this job. I learned the hard way, the same with food. I pay a lot of attention to that kind of thing now. Typically, I get to the office around eight o'clock. I have a very mixed schedule and I always try to keep time for things that are not planned. You need time for whatever might might pop up in the week.
On why she doesn't have to put out many fires herself:
The good thing with Booking.com is that the culture is very much bottom up. You see that people take lots of ownership over their work. When a problem really gets to my level, then it's often something that people will just update me on. What has happened? What was done about it? I don't need to get involved or fix everything.
On how she even gets value out of lunchtime:
We have an extended leadership team, which is a group of about 120 people, and I schedule lunches with people from that team every day. Otherwise, you either always have lunch with the same people or people you are close to. I think lunch should be time that you spend well. You spend it with talent and also you talk about the business or about what is keeping them busy or how can you help them.
On how she keeps up with the business in other parts of the world:
Mostly my day ends around 6 or 6:30. I try to have dinner at home if I'm in Amsterdam because I travel so much otherwise. When that works, that's great. I have help with the cooking and I eat dinner with my family; then after that, I go back to work. I work until about 11. I always have to do emails or conference calls with the U.S. because of the time difference.
On why she visits every one of the 190 Booking offices worldwide when she's in town:
If you run a global business, it's so important that you understand what happens in each place and you can't do that remotely. I don't want to go anywhere and leave and not have seen the people who work for us. That doesn't feel good. The culture is different in every office, too. I remember when we started the office in Spain, they used to take two-hour lunch breaks and our office would only take a half an hour. You have local differences because of different cultures, I feel that it's also very important to have that. I'm flexible to that. You have to be.
On why she hates checking a bag:
I travel very light. I never want to check a bag. My only standards are a few sets of clothes, my white sneakers, my blue backpack, and my laptop. I don't have any special things otherwise. On planes, I mostly sleep. If it's a day flight, I fly on airlines that have Wi-Fi, so I work while I'm flying. You don't lose so much time then. I get jet lag but I've learned to deal with it. At one period, I started taking sleeping pills, but I stopped. I noticed in the morning when I had meetings, I was still so tired. I was just not sharp enough, I hated it. I drink a lot of coffee. I think that helps.
On the bargain she's made with her family about vacations:
In Holland, you get a lot of vacation. I try to take a vacation as much as possible. In the winter, we take a week. In May, I try to go for a few days. Then in the summer, I go for two weeks. But — I do not log off when I'm away. That's the deal that I have with my family. They understand. My husband used to be an entrepreneur also, so he understands, too. That's just the way things go.