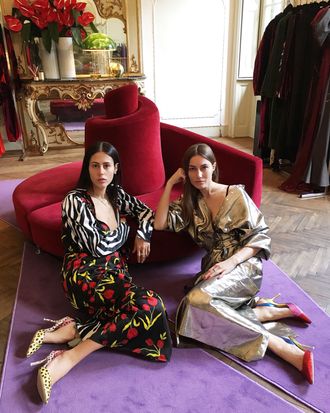 Ambrosio and Tordini.
Photo: Vito Fernicola
Italian design duo Giorgia Tordini and Gilda Ambrosio of Attico have fashion in their blood. Tordini's father was a shoe designer, and she remembers hours of her childhood spent sitting next to him as he worked, sketching her own design and helping him pick out colors and materials. "I wanted to be creative as him," Tordini said. Ambrosio's family owns a boutique in Naples, and as a child, she played dress-up at the store.
Both women went on to study fashion and worked as freelance designers and consultants — while also becoming international street-style darlings — living parallel lives until they were introduced by mutual friends in Milan a few years ago. "We created a bond from the very beginning," the designers said.
The resulting collaboration was Attico, a vintage-inspired luxury label comprising slip dresses and boudoir-inflected robe gowns, which quickly became a fashion-industry favorite after its launch in February of 2016. "We wanted to tell a story about women, made by women," the designers said.
Their instincts were spot-on, and the line was quickly picked up by the likes of Net-a-Porter and matchesfashion.com, and has been heralded as one of the buzziest brands to come out of Milan in recent memory. Tordini and Ambrosio have since expanded into footwear, and were honored with Footwear News' "Launch of the Year" award in 2017.
On the eve of their fall 2018 outing in Milan, the designers told the Cut about their favorite things, from chocolate and blankets to the perfect T-shirts. Read on for the full Q&A.
How do you thank people for a gift? 
Giorgia: A smile and a kiss.
Gilda: A hug.
Color or no color on your nails?
Giorgia: Red.
Gilda: Red.
Mood lighting or natural light? 
Giorgia: Mood lighting.
Gilda: Natural light.
What are some coffee-table books you'd be proud to display? 
Giorgia: Sleepless Nights by Helmut Newton, Mies van der Rohe, Tàpies, Maria Pergay, and Entryways of Milan.
Gilda: Loewe x Ibiza [and other] Loewe books, Polaroids by Helmut Newton, and books about clubs, and astrological signs.
Heels or flats? 
Giorgia: Heels.
Gilda: Flats.
What would you never wear? 
Giorgia: Sneakers with dresses.
Gilda: Crocs.
Favorite song on your playlist right now
Giorgia: "All Along" by Mirror Signal.
Gilda: "Moody" by ESG.
If you were a car, what kind of car would you be?
Giorgia: A black Porsche 911 Carrera.
Gilda: A G-class Mercedes.
No-makeup makeup, or actually no makeup?
Giorgia: No makeup.
Gilda: No makeup.
What's another decade you'd like to live in and why?
Giorgia: The sleek '70s because they were sexy.
Gilda: The '80s because they were fun.
What's one way your taste has changed since you were a teen and one way it's stayed the same?
Giorgia: I wear less makeup and keep my hair natural. I still wear black all the time.
Gilda: Not much has changed — I still have the same approach in mixing things.
What's your guilty pleasure?
Giorgia: Vintage furniture.
Gilda: Chocolate.
What's the last show you binge-watched?
Giorgia: Big Little Lies.
Gilda: Money Heist.
What's your favorite …
Pair of jeans?
Giorgia: Re/Done.
Gilda: YSL skinny.
T-shirt? 
Giorgia: Prada.
Gilda: White vintage T-shirts.
Pajamas:
Giorgia: An oversize T-shirt.
Gilda: I don't wear pajamas.
Flower?
Giorgia: Hydrangea.
Gilda: Buttercup.
Chocolate maker?
Giorgia: Venchi.
Gilda: Kinder.
Perfume?
Giorgia: Serge Lutens Ambre Sultan.
Gilda: Dior Ambre Nuit.
Sheets/bedding? 
Giorgia: An Hermès blanket.
Gilda: Frette.
Lip balm?
Giorgia: Chanel Hydra Beauty Lip Care.
Gilda: Elizabeth Arden Eight Hour.
If you buy something through our links, New York may earn an affiliate commission.